Food ordering app Tapingo has students skipping long lines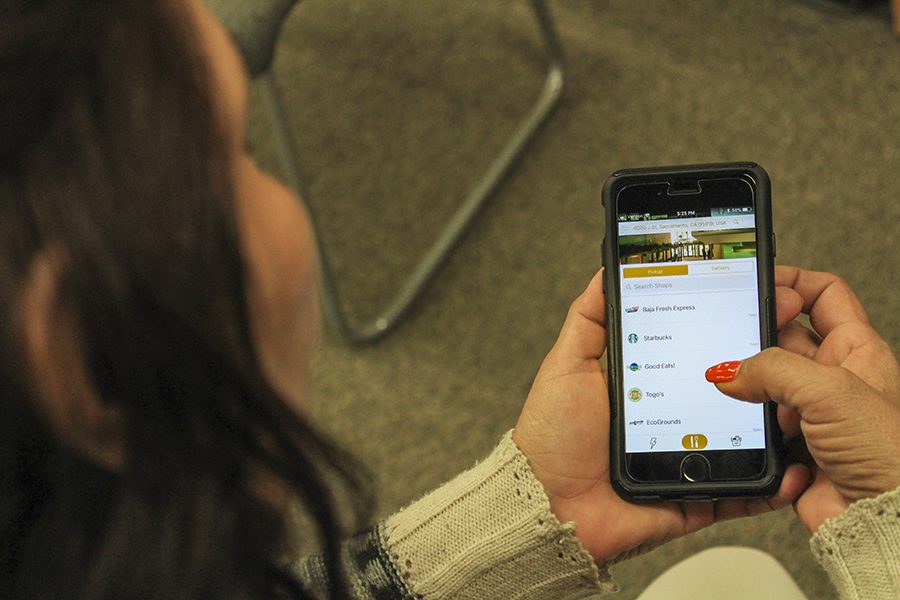 This semester, some students seem to be cutting ahead of lines, coming into restaurants only to grab a readily prepared meal and going about their day without even stopping at the register to pay.
Those students may be using Tapingo, a free app that allows them to order and pay for food from mobile devices without having to be in the restaurant. The app is free to download on Android and iPhone and allows students to browse through menus from eight available dining options on campus: Java City, Baja Fresh, Starbucks, Good Eats!, Togo's, EcoGrounds, Epicure and Grumpy Mule.
After users are done selecting items from the menu, they can pay with a credit card or the campus meal plan. The app will send a notification when the order is ready for pick-up.
RELATED: 5 apps that will revolutionize your daily college routine
Over 200 college campuses use Tapingo, and there are currently 400 students signed up for the app at Sac State. Angela Rader, marketing services director of University Enterprises Inc., said in an email that UEI partnered with Tapingo this semester in an effort to improve the campus dining experience.
"(We wanted) to shorten the time between ordering and enjoying a nice meal," Rader said in the email. "Since the overwhelming majority of people have or use a cell phone, it was logical to partner (with) technology."
Tapingo works by wireless communication, with orders being received by a small printer stationed at each restaurant. The machine prints out the order details for restaurant employees to complete. After the food is prepared, employees will leave the order at a designated pick-up area. A bright yellow receipt is attached to the item with the customer's name on it, making it easy for them to grab the order and go.
Students like Shanna Ballesteros, a senior government major, rely on the app to order food between classes. She said that she typically uses the app two to four times a week.
"(Tapingo is) really easy to use," Ballesteros said. "I use it to skip the lines, so it's especially good if you're in a rush or going to class."
Cat Stepanek, a Tapingo student representative, said the app was developed with students in mind. She said that she hopes the app will increase the demand for its service, so Tapingo can offer more restaurants and eventually have delivery options.
"We (at Tapingo) wanted to make it easier for students to get to their classes and get to activities that they are doing, so that they don't have to wait in lines," Stepanek said.
Here's what one student has to say on Twitter:
Tapingo is such a blessing to the Sac State campus

— lauren vannucci (@vanoooch) September 27, 2017
Additional reporting by Rin Carbin