Before he made his living selling gourmet edible marijuana products, Sacramento State alumnus Vincent Martinez, who graduated with his masters in education, was working for Pearson Education, perfecting standardized tests.
"Spreadsheets," Martinez sighed as he recalled his former job.
In the relatively short time that he's been in business since obtaining his permit in January, Martinez, 29, has built a dedicated customer base for his cannabis products — a range which includes gourmet edibles (such as lemon bars, crepes, cheesecake and of course, brownies), pain relief balms, essential oils and tinctures.
"Tinctures are really big," Martinez said. "It's basically just like a vegetable glycerin mixed with the cannabis and maybe infused with some other flavors or ingredients. You can either put it in your drink or you can just take sublingually."
Martinez began using marijuana about five years ago on the recommendation of a friend. Soon after, he found himself experimenting in the kitchen.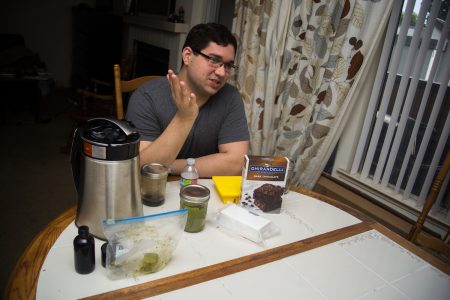 "At first, I was making brownies because I was just curious how to make weed brownies," Martinez said.
Last year, however, a loss in the family served as a catalyst for Martinez to begin selling his homemade creations.
"I lost my niece's dad. He died early from complications of alcoholism," Martinez said. "He was very depressed — he grew up in a very abusive environment."
Martinez was already aware that cannabis is used to treat depression, PTSD and anxiety, and saw it as an alternative treatment for those in need.
"That was a lot of the inspiration for actually starting to be in the cannabis business," he said. "As well as the fact that it's, I mean, it's going to be legal."
As it stands, recreational marijuana use is legal in California for those over the age of 21, thanks to the passage of Proposition 64 in November. However, the state has not yet figured out the web of regulations for dispensaries, and marijuana use is still illegal on the federal level.
With recreational use now legal in eight states and medicinal use legal in 28, Martinez and other industry insiders anticipate that federal laws will change soon — resulting in an explosion of business prospects.
"(This period is) already called 'the green rush,' " Martinez explained. "We think there's going to be a boom."
Edibles in particular have a dedicated customer base in an industry that has seen investors flock to it as more states legalize recreational use.
Colorado, which legalized recreational marijuana in 2012, recorded sales of 5.8 million edible marijuana products in 2014, according to the Colorado Department of Revenue Annual Update.
CC101, a dispensary in Sacramento, said that edibles make up roughly between 45 and 50 percent of their total sales. Meanwhile, in Southern California, private marijuana chefs have become the latest dinner party craze for those who partake.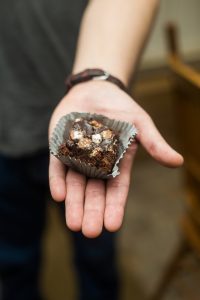 Even Martinez's family has embraced his new business venture.
When he brought a tray of brownies to Thanksgiving dinner last year, he was nervous about the reception he would get, but his family had an unexpected reaction.
"My aunt high-fived me," Martinez recalled, still sounding surprised.
People come to Martinez for more than just the novelty of edibles, though.
"They want another way to take their medicine, basically," Martinez said. "Smoking has a lot of complications that it brings. I mean, smoking cannabis — any time you ingest carcinogens, obviously it's bad for you. So people want an alternative."
Charlie Hussel, an employee at THC dispensary in Sacramento, agreed.
"It's an alternative to receive the medical benefits versus having to be confined to smoking," Hussel said. "Some people need it to be administered that way."
Martinez puts emphasis on the medical benefits, adamantly refusing to refer to marijuana as a drug. Some of his products are designed specifically for pain relief, and won't get users "stoned."
"There's a guy with cerebral palsy who's a customer of mine. He really likes the pain relief balm. It helps him, because he has to wear leg braces, and it helps relieve pain so that he can work — and he has kids, so he can play with his kids and things."
That customer, who asked to only be named as "J," said that the pain relief balm has tremendously improved his quality of life.
"Pain relief is a big deal for me … I've struggled all my life because of my born disability," J said. "There's no recreational aspect to it."
J said that before he discovered Martinez's products, he tried a variety of pain relievers, but the side-effects of those medications were unbearable.
"I've had zero side-effects on this. It doesn't do anything else," J said.
Soon, Martinez hopes to expand both his product range and his marketing efforts — a venture that will surely be aided by new investors who have caught wind of his operation.
"It's caught the attention of some people that I'm acquainted with and they're getting in on it too, so we're making it bigger than just these things," Martinez said. "(The expansion is) also to present these in a more professional way with packaging and developing a way to actually distribute them to other places.
"I'm in the cannabis business. I'm not, like, slinging dime bags."