Alum's art in new Golden 1 Center inspired by local rivers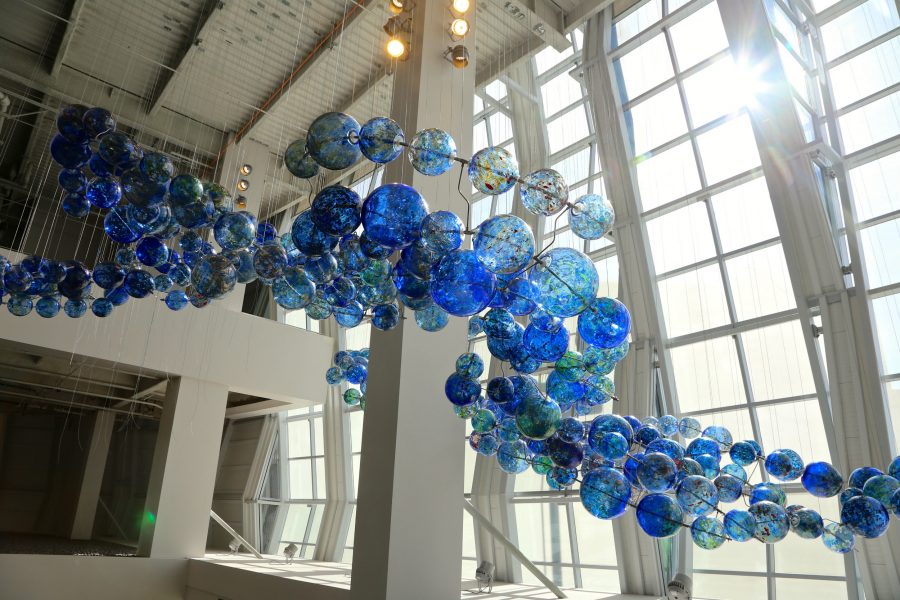 When it was announced in early 2015 that an $8 million sculpture called "Coloring Book" by renowned artist Jeff Koons would be the centerpiece of downtown Sacramento's Golden 1 Center, the community was shocked that it wasn't a piece commissioned by one of the many talented artists in town.
In the midst of the controversy over local representation, the Sacramento Metropolitan Arts Commission decided to host an open call to regional talents for the once-in-a-lifetime chance to have their works featured at the arena.
One of those 135 submissions was from Sac State alumnus and local award-winning artist Bryan Valenzuela, whose pitch was inspired by the convergence of the Sacramento and American rivers.
With a budget of $350,000, Valenzuela brought his idea to life by using 400 handblown turquoise glass balls vibrantly marbled with yellow-green and subtle hints of gold fabrication representing the Gold Rush. Valenzuela also used 109 stainless steel rods to construct the abstract sculpture spanning almost the entire length of the atrium at the arena's 5th and L Streets entrance.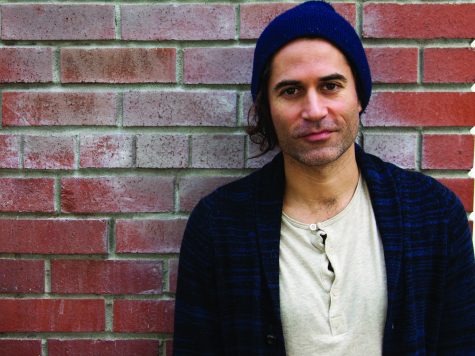 Valenzuela said that the idea to name the piece "Multitudes Converge" initially came to him after reading the last line of David Mitchell's work Cloud Atlas: "Yet what is an ocean, but a multitude of drops."
"It was kind of the idea that from many things come this one thing," Valenzuela said.
The many things that Valenzuela alludes to have to do with how the Golden 1 Center was built with the intention of unifying the many aspects that make Sacramento great, such as architecture, sports, arts, entertainment, politics and the community.
"What I did is very regional and site-specific," Valenzuela said. "I don't think I would've done the same thing at a different space. The piece is so much a part of the history of this region even if it may not be as readily apparent to many."
"Multitudes Converge," Valenzuela's first sculpture, took the artist over a year to finish, with the installation of the sculpture occurring just days before the arena's official opening.
The construction process allowed Valenzuela to travel to Europe to work with artists who have been fabricating glasses for decades. There, he collaborated with artisans from the Czech Republic to assemble the glass globes and with artisan Franz Mayer of Munich to fabricate the layout of each globe.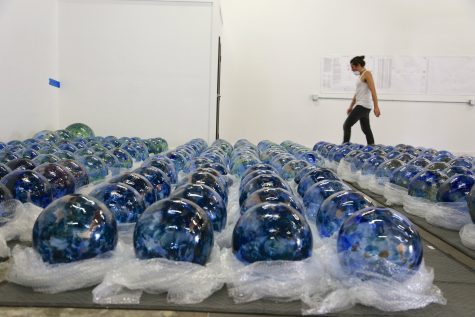 "It's an engineering feat," said Valenzuela of what it took to sculpt "Multitudes Converge."
"I knew that I wanted to make something beautiful and evocative of the region —something that when people go up the escalator, they can experience that moment of 'ahh' and take them out of whatever they're doing," Valenzuela said.  "Just like Gale Hart said to me, 'We're artists, we're just supposed to decorate the world.' "
Gale Hart was another local artist chosen to have her work displayed at the arena.
For Valenzuela, however, art was never his ultimate career choice. His time at Sacramento State in the early 2000s can attest to the fact that he was more musically-inclined than artistic.
"I loved Sac State when I was there," Valenzuela said. "I didn't even start doing art until I went to Sac State. When I started there, I was actually pursuing the music department."
Valenzuela, who is also the current lead vocalist of the local rock band Exquisite Corps, said that his change of mind in pursuing art had plenty to do with the way the professors were welcoming him to the program.
"I started taking some elective classes in art," Valenzuela said. "I never even had any experience with art prior to that, and the teachers there were so inspiring. If I had gone to the bigger school, I might have never had the same kind of attention; I made real relationships with those teachers there."
With a successful music career in Sacramento and a sculpture permanently residing in Golden 1 Center, it might be difficult to pinpoint what's next for Valenzuela. His accomplishments are beginning to allow him to lend his name to other upcoming projects of similar scopes.
Valenzuela said he is also working on an upcoming auxiliary project called "It Takes a Village." The exhibit, paying homage to the more than 40 individuals who helped him create "Multitudes Converge," will be shown at Sacramento City Hall.
"Being someone who was given such a great opportunity to show (work) at the arena, I thought that it was one of those moments of 'go big or go home,' " Valenzuela said. "This is a perfect time to just prove to yourself (that you can do it because) if you trust yourself and if you have a great resource behind you, you can do anything."