Sac State shutout by visiting Wolf Pack, 2-0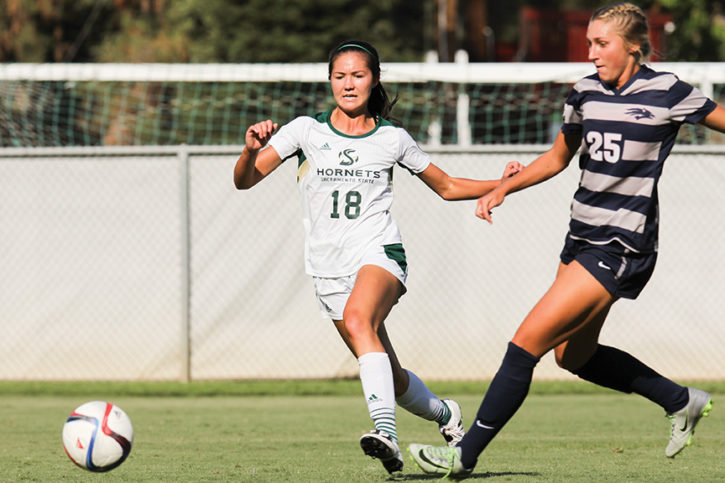 The Sacramento State women's soccer team played well but left Hornet Field with their third loss of the season after being defeated by Nevada 2-0 on Friday.
The loss put the Hornets' season record at 2-3-1, while Nevada's record improved to 2-2-0.
Despite outshooting the Wolf Pack 19-10, Sac State went scoreless for the second consecutive game after tying 0-0 with rival UC Davis on Sept. 2. The Hornets had plenty of scoring opportunities, but had trouble finding the net behind Nevada's relentless defense.
Freshman midfielder Mikayla Reed noted many of the team's shortcomings came from within.
"I think we just weren't aggressive enough wanting to throw our bodies in front and put the ball in the back of the net," Reed said. "We just didn't capitalize. [There were] a lot of small details that we could have done better."
One of the team's best chances to score came in the 26th minute, when Nevada goalkeeper Kelsey Quintos made a leaping save to rob the Hornets of the game's first potential goal. Quintos, who finished the day with nine saves, displayed an impressive performance and contested shots all throughout the game.
The Wolf Pack's first goal arrived in the 41st minute as forward Morgan Beye snuck a shot past sophomore goalkeeper Destiny Butcher. Sac State found themselves down 2-0 early in the second half after Nevada scored again on a goal from forward Angel Meriwether.
The Hornets created a few late drives in the game with a string of quality shots, but left fans in attendance groaning in disappointment as the balls missed the goalposts by mere inches.
Despite the tough loss, Sac State is still in a good position to have a winning a season as long as some minor adjustments are made, according to Reed.
"We have some small things that we need to fix," Reed said. "But if we can fix those then…things will start clicking and we can come together as a team."
The Hornets will have a chance to redeem themselves as the University of the Pacific Tigers come to Hornet Field on Sunday, Sept. 11 at 1 p.m.