'Annie' to close out Theatre and Dance's fall season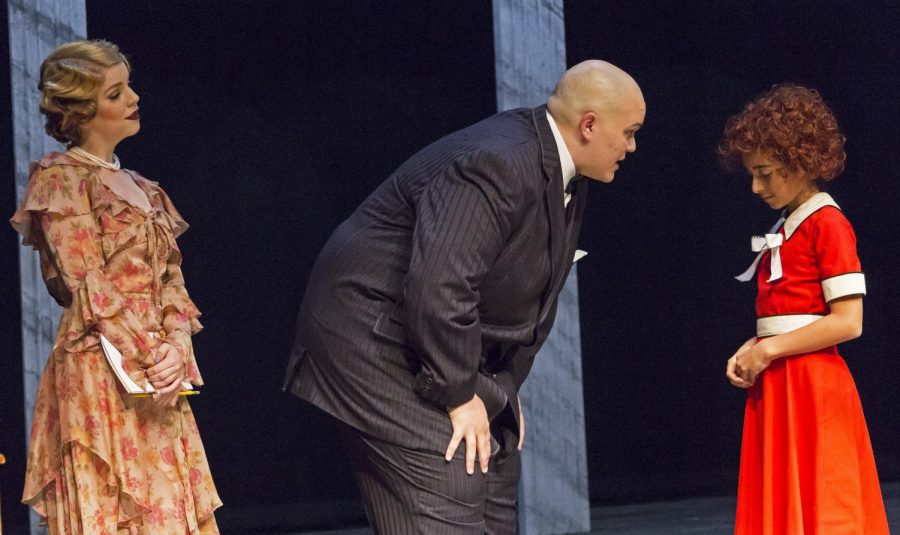 As a way of welcoming the holiday spirit, Sacramento State's Department of Theatre and Dance will close out its season with the live show "Annie," directed by Ed Brazo.  
The Tony award-winning musical tells the story of an 11-year-old orphan, Annie, who spends her days cleaning and sewing dresses as part of the sweatshop labor ordered by the head of the orphanage, Miss Hannigan. Fed up with the "Hard Knock Life," Annie decides to run away to search for her birth parents.
Annie is later caught by a police officer, and upon arriving back to the orphanage, is invited to spend Christmas in a mansion with billionaire tycoon Oliver Warbucks. Warbucks despises the idea of having a child living with him, but he eventually finds a soft spot for Annie and offers to help her find her parents.
"We thought 'Annie' would be a great show because it has a Christmas theme to it," Brazo said. "It could work at any other time, but Sacramento is ready for something different. We have 'The Nutcracker,' we have 'A Christmas Carol' and all those other Christmas shows (coming to town). So, I feel like this is going to draw a new crowd."
Brazo wanted to accurately depict the characters and decided to collaborate with the Sacramento Theater Company (STC) to give its young students an opportunity to get involved in an outside production. Two groups of seven child actors will sing, dance and act in the Sac State production.
Emily Clark, a senior who will be playing Miss Hannigan, auditioned for the role believing she would be a perfect fit for it. Although Clark said she is known to have a nice personality, she likes demonstrating her acting skills by playing the role of the villains in different productions. Clark said she intends to portray Miss Hannigan in an over-the-top way by exaggerating her drinking habits, speaking very loudly and breaking the fourth wall.
"Look for lots of laughs from my character," Clark said. "I am definitely the comic relief, and I make a fool out of myself on stage, and it's fabulous."
To further celebrate the holiday theme, Christmas decorations will be set up in the lobby to put audience members into the spirit of the show. There will also be a backdrop on stage from a previous show called "A Broadway Christmas" aligned with small, colorful gift boxes and a larger box in the middle that reads "For Annie."
Alexander Escorcia, a junior who will be playing Oliver Warbucks, questioned the idea of producing "Annie" in the winter because the department normally hosts musicals during the spring semester. Now that everything is coming together, Escorcia said that having "Annie" in the fall was a great fit for the holidays.  
"There are certain things that we are trying to incorporate with the Christmas theme," Escorcia said. "We are trying to put a Christmas tree in the lobby, so if we did this in the spring, it would have been weird."
All the dances featured in show were choreographed by Brazo, who was inspired by the the original "Annie" production he saw on Broadway in 1977. Brazo said he rented the original scripts and scores to get his version as close to that performance as possible.
"I think (for) most of the families that are going to be bringing children, ('Annie') will be a nice way of having a new bond with their child," Brazo said. "It's a feel-good show, you can't help but want to run on the stage and give a hug to Mr. Warbucks and Annie."
"Annie" will be performed in the University Theatre from Nov. 29 to Dec. 10. Tickets range from $12-$20 and are available at the Hornet Ticket Office.