Take a seat on new breezeway furniture, Sac State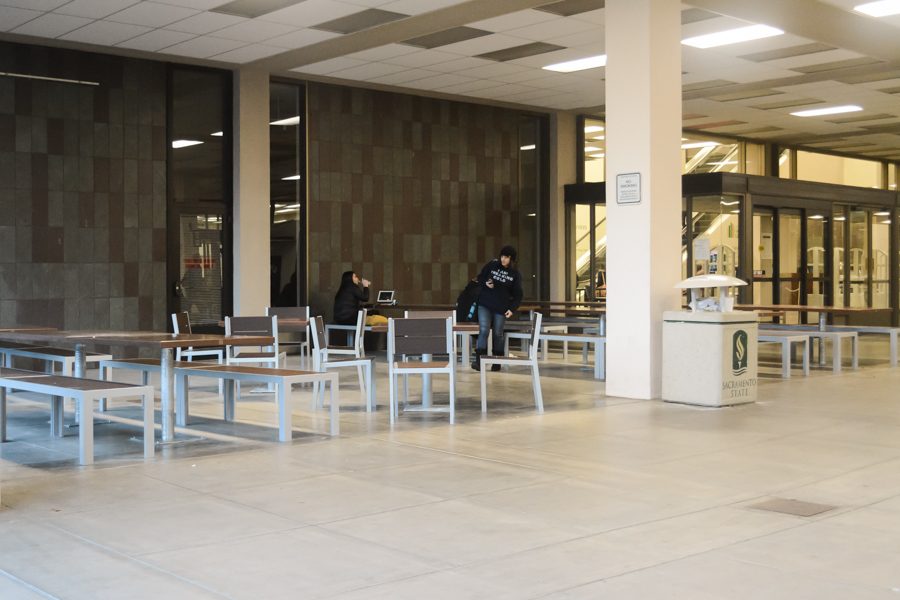 If you haven't already noticed, the University Library breezeway was transformed over the winter break.
A total of 49 sets of tables, chairs and benches were installed last December in a space that was previously occupied by nothing other than one long metal picnic table, which was removed in early 2016.
These new permanent seatings are a collective result of the yearlong mission by Library Dean Amy Kautzman, Associated Students, Inc. and several other campus organizations to reoccupy the desolate areas in both south and north entrances to the Library.
The materials required to build the furniture cost approximately $111,500 in addition to thousands more spent on hiring contractors and other expenditures.
Kautzman said she hopes that by putting furniture in the breezeway, students will find the Library as a campus social destination once again, rather than just a spot to study or borrow books from.
"(The breezeway) is a walk-through space—a social space," Kautzman said. "I'm hoping that we're going to (maybe) have impromptu arts and music performances to make a tighter connection with the students."
For child development senior Felice Russell, it was refreshing to see the bare, open space turned into a social hub.
"I was kind of shocked to see these tables when I was on campus the week before school starts," Russell said. "Students and myself now have even more spaces to get fresh air."
Ryan Pierce, a junior computer science major, said he has to send some photos to his alumni brothers and cousins to show off the new "dope" tables and chairs.
"I know that they will go like 'Oh what the heck, (Sac State) didn't have these when we were there,'" Pierce said.
As students begin familiarizing themselves with the new furniture, Kautzman is already thinking about how she can do even more to the space.
New lighting for those late-night study sessions will be a must. If enough money is raised, electrical outlets for each table set will also be installed eventually.
"We're building our potentials here and we're making the campus better everyday," Kurtzman said. "So yes, one project at a time."