Bicyclist struck by car on campus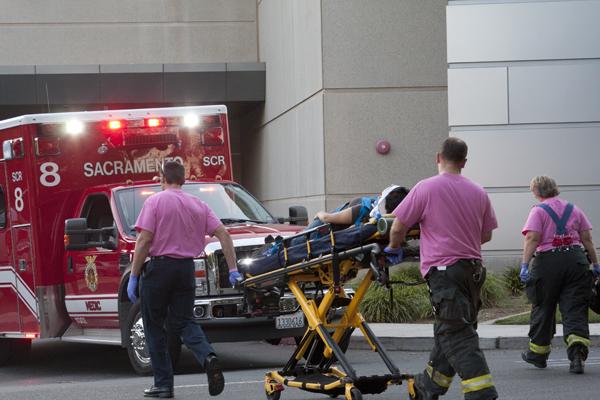 A woman on a bike was struck by a car while riding across State University Drive East behind the Hornet Bookstore just before 6 p.m. today. 
Officer Augustin A. Yaya was on the scene and said the victim did not appear to sustain any serious injuries. 
"She was alive and talking," Yaya said. "She didn't appear to have any broken bones."
Yaya said officers are unsure exactly how the accident occurred.
"At this point it's just an investigation," Yaya said.
Junior liberal studies major Madie Morse was waiting for her ride behind the bookstore when she saw the accident.
"She was riding her bike across the street and this lady just t-boned her," Morse said.
The victim was sitting on a curb near her bike while a firefighter held a brace around her neck. She was able to talk and move.
Firefighters placed the victim on a stretcher and took her away in a Sacramento Fire Department medic vehicle.
The bike, a fixed-gear Huffy, sustained a warped rear wheel, a bent tire and a crooked handlebar.
The green Volkswagen Jetta that hit her did not show any signs of damage.
The driver, a middle-aged woman, was being questioned by police just a few yards away from the victim's bike. 
The accident comes just six and a half months after Arlene Sasse, a 22-year-old Sac State psychology student, was killed when a car hit her while she rode her bike near Sacramento State's J Street entrance.
Dante Geoffrey can be reached at asports@statehornet.com. You can follow him on Twitter: @dantegeoffrey.