Sac State's Student Purchase Awards reveal the heart in student art
With no required theme, submissions are gathered over a 3-day period
Sacramento State's annual Student Purchase Awards invited students to submit artwork for a chance to be displayed in the University Union Art Gallery and earn prize money.
The Student Purchase Awards holds the distinction of being the only art show on campus that is open to any Sac State student, having supported creativity from all majors since its creation in the late 1970s. Over 100 pieces have been purchased over a 40-year span, according to Rebecca Voorhees, the manager and curator of Student Purchase Awards.
Its website lists that the show's submissions are chosen based on artistic merit, how well it adapts to the University Union's assorted permanent collection and suggested prices. Chosen pieces are kept in the University Union for longtime display.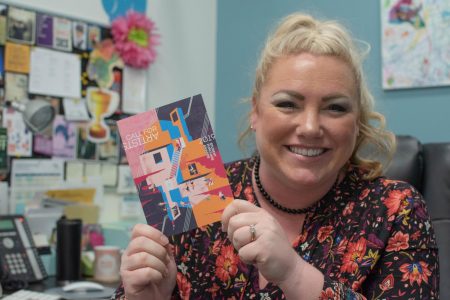 "In years past, we've had jewelry, ceramics, sculptures, paintings, drawings, poems, digital videos and digital designs submitted," Voorhees said. "It's open to any kind of creative medium."
Voorhees, who installs the exhibits, said she is surprised by the submissions that make their way to the University Union Art Gallery year after year.
RELATED: Student artists honored at the 42nd Annual Student Purchase Awards
Voorhees estimated 20 pieces were submitted on March 12, the day before the deadline.
"It's amazing as a whole how much talent is on campus," Voorhees said. "One of the winners two years ago was a geology major who submitted a painting, and she won. It was reinforcement for her that she had talent."
Even students who don't place can secure their own victories.
"Students establish the price they would like for their art, and professionals off-campus get a fair market value. Then, the art is open to whoever wants to make a purchase," Voorhees said. "Gallery patrons have purchased art from students who didn't get an award."
RELATED: Student artists compete for prizes in the 2016 Student Purchase Awards
The show also serves as an opportunity for students to showcase their work or have a professional addition to their resume or portfolio.
Kinesiology major Osvaldo Jimenez noticed an advertisement for the Student Purchase Awards and decided to give it a first shot, submitting two pieces for consideration.
"I'm happy and anxious," Jimenez says. "I feel excited to be a part of this event at Sac State."
Jimenez's drawing and painting are called "Love Yourz" and "69 Fender" respectively.
"Love Yourz" is a simple portrait done in pencil of rapper J. Cole, one of Jimenez's favorite rappers, while "69 Fender" combines his love for cars and music through a blue-haired woman playing an electric guitar hooked up to an amp in the open trunk of a car.
Liz Stohlman, a studio art major, submitted two art pieces for the first time to the Student Purchase Awards, though she is no stranger to participating in galleries. Her preferred mediums are oil on paper and mixed media.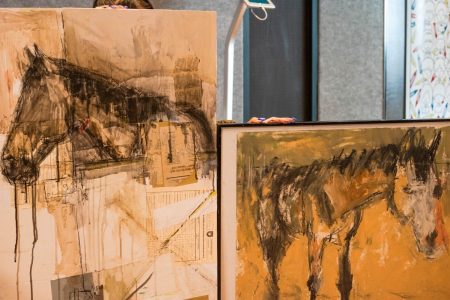 "Horses and art are my biggest passions," Stohlman says. "I ride horses, love horses and love art."
Both her submissions are unnamed, depicting textured horses set against primarily yellow and black tones. The mixed media piece is unframed, giving it a more organic look compared to her framed oil painting.
"Even though the ads say 'calling all artists,' we're calling all creative people, all creative Hornets," Voorhees says. "You don't have to major in art to be an artist."  
On March 28, a free opening reception from 6 p.m. to 8 p.m. available to students and faculty will be hosted at the University Union Gallery.