Play therapy: counseling for children through the means of play
A graduate course at Sacramento state also offers a unique service to children at the Center for Counseling and Diagnostic Service on campus.
Play therapy is a form of counseling through means of play for children ages generally 3 to 7 years old. These sessions are usually 30 minutes to an hour long, and counselors, who are Sac State graduate students, observe and track children's behavior as they play with toys.
According to the Sacramento State website, the CCDS provides low cost and accessible counseling services to the Sacramento community.
Humberto Ramirez, a counseling graduate student at Sac State, created an informational slideshow explaining play therapy. The slideshow reads, "Sessions occur in a playroom, where ideally it must be enclosed within four walls and have the ability to to get messy if needed."
These playrooms include four different types of toys that help children learn concepts like nurturing, reality, creative expression and emotional release, according to the slideshow.
Graduate students are taking the course EDC 242,  "Play and Art Therapy with Children," to train them on how to approach play therapy in the best possible manner. The course teaches them how to understand the way children use play and art as a way to nonverbally communicate.
"Play therapy is the most therapeutic and creative way for children who need counseling services," said Elisabeth Liles, the department chair of graduate and professional studies.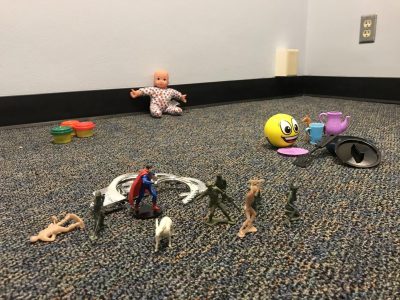 The benefits of play therapy include giving children who have experienced "trauma, separation of parents, loss of a loved one and chronic illness" a safe place to express their thoughts and feelings, facilitate easier communication as they play with toys and allow children to discover their natural inner resources for healing, according to Ramirez.
Bao Vang, a second-year graduate student in the counseling program at Sac State, said play therapy is beneficial because of its creative way to let kids know that they are in control of their life regardless of their circumstances.
Vang conducted a play therapy session Nov. 2 with a child. Vang hopes to become a school counselor for children in the future.  
After their sessions, the teaching assistants for the course give feedback to the students on how they did in their session.
"My main take away from play therapy is that the child is told what to do almost their entire life, and when they come into these play therapy sessions they're allowed to express themselves one hundred percent," Ramirez said. "It is totally therapeutic."