'Finish in Four' turns 1: Has it been effective?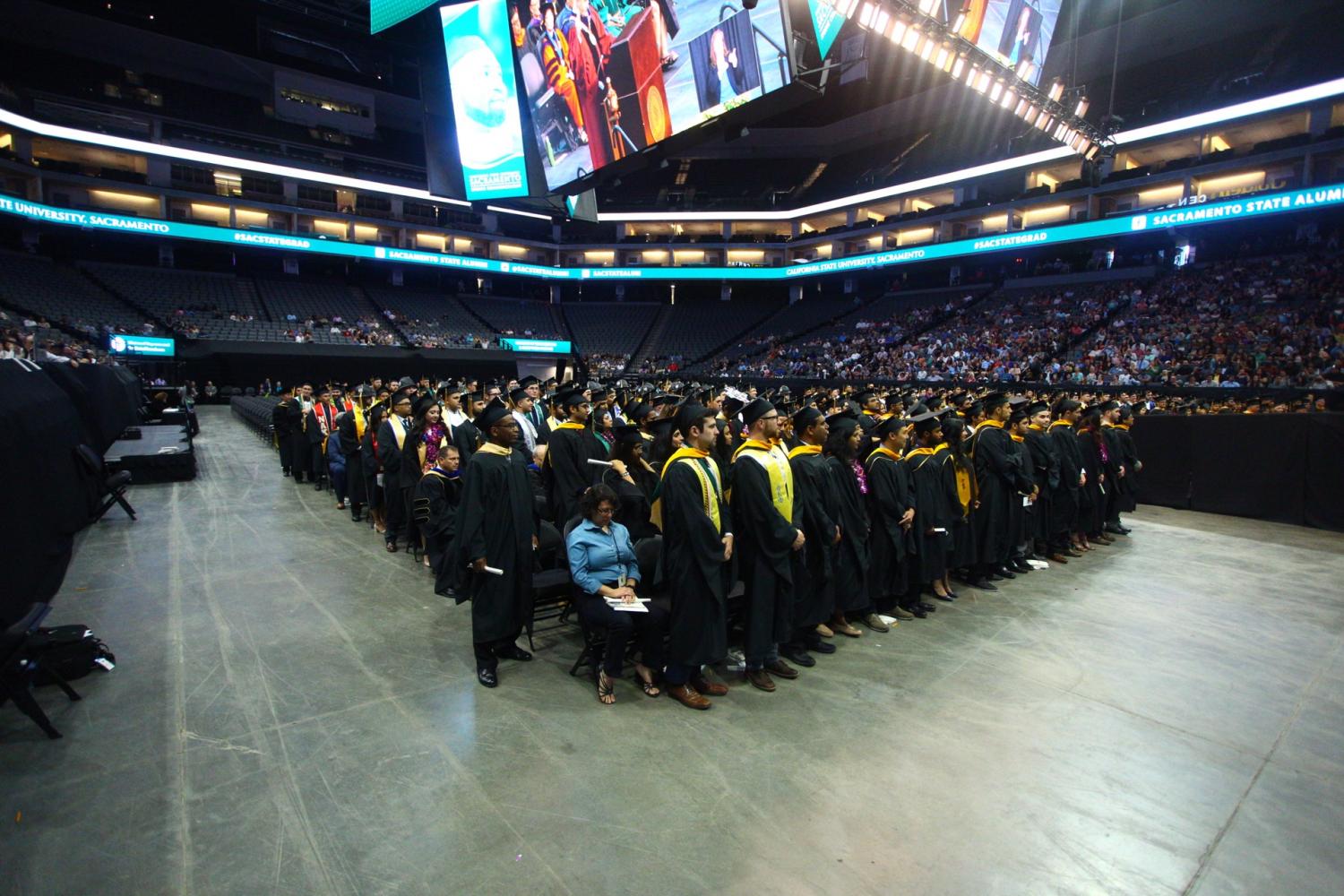 Sacramento State President Robert Nelsen said in his fall address Aug. 24 that the Finish in Four initiative has positively affected the university's graduation rates despite the program having only been in place for one school year.
"Finish in Four" began in fall 2016 as a Sac State commitment to help incoming freshmen earn their degrees within four or six years, and transfer students within two, by offering incentives like discounts on summer classes and campus products, as well as more academic advising sessions.
RELATED: Editorial: It is too early to tell the success of Finish in Four when it's only been in effect for 1 school year
In return, students must sign a pledge to enroll in at least 15 units per semester to be on track to reach 120 units to graduate — a plan that Nelsen hopes would raise the four-year graduation rate from 8.3 percent to 30 percent by 2025.
Nelsen also mentioned in the address that 64 percent of freshmen signed the pledge during the program's first year, while 84 percent signed this fall.
The program also helped usher in at least six new academic advisors, 89 new faculty members, and more than 12,000 added seats in 658 new course sections throughout all departments.
Executive Director of University Initiatives and Student Success Jim Dragna said that the plan is working and the university is progressing to reach that 2025 goal, as there was a 12.5 percent increase from 51.6 percent to 64.1 percent of freshmen enrolling in more than 15 units during their first semester.
"The difficulty here at Sacramento State was over the last 30 years, we have really balanced between 8 and 10 percent of students being able to graduate in four years," Dragna said. "And that needle hasn't moved much in recent years."
He also said the university determined the effectiveness of Finish in Four by examining how many students enrolled in the program are on track for their second year and other data.
One of the program's main objectives is to be more proactive by using this data. Dragna, who is known as the "graduation czar" for his focus on increasing graduation rates, said Sac State has always examined the rates post-graduations, and then complained about how low they were.
Part of being more proactive includes shifting the "campus culture" by showing support at all times, such as academic advisors reaching out to students throughout the semester.
A total of 2,347 freshmen committed to taking at least 30 units during the 2016-17 school year, and one of them was now-sophomore psychology major Gina Gargano, who said that she's expecting to finish in four because of the pledge, in addition to being in the honors program.
"I don't take any more classes than I currently have or am required to so that's a relief," Gargano said. "I really don't want to extend the amount of time that I'm here (at Sac State)."
For freshmen like electrical engineering major Nicholas Johnson and pre-biology major Aliyah Penn, there's a newfound pressure to get through college within four years by being bound to the contract.
"The contract is like a reality check," Johnson said. "Being to able to sign something physically kind of keeps it in the back of your head to follow the requirement every semester."
Penn also said that being a pre-biology major can make it hard to get classes, but with Finish in Four's incentives, she could use the $1,000 discount on summer courses to take up more units to be on track for graduation.
Even with the program's rigorous assistance effort, Dragna said only 50 percent of the total freshmen enrolled completed 15 units for fall 2016, and there was a 10 percent increase in the number of those who are progressing into their second year this fall.
Sophomore social work major Paula Melissa is one of the many students who did not complete the first year requirement and is no longer in the program.
"Spring semester was tough," Melissa said. "It was a hard first year especially with the whole transition, having to live away from home and dealing with financial problems. I failed a couple of classes as a result of that."
Melissa said she's now working to finish this 12-unit semester with good grades to get back on the Finish in Four program and graduate within four years.