Sac State professor recognized by the State Assembly on Native American Day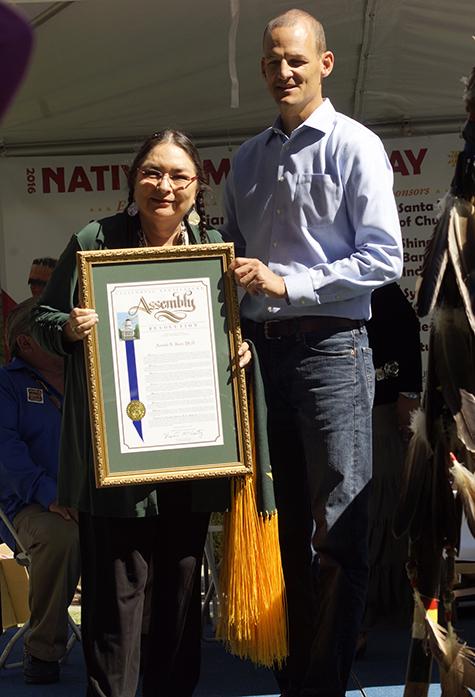 A Sacramento State professor was recognized by the California State Assembly for her work in the field of education and her commitment to the success of Native American Day during the 49th annual Native American Day celebration at the Capitol on Friday.
Annette Reed, a member of the Tolowa Dee-ni' Nation and professor of ethnic studies at Sac State, was presented with a framed proclamation in recognition of her work by Assemblyman Kevin McCarty.
Elk Grove Unified School District Board of Education Chairwoman Crystal Martinez-Alire, a member of the Ione Band of Miwok Indians, gave an emotional speech calling Reed her mentor and identifying her as the person that helped her to successfully graduate from Sac State.
"It is an honor to be before for you today to speak about a special person who is part of our community and who has really had a tremendous role in my educational journey," Martinez said. "This native leader, scholar and community member has not only helped to mentor me, but many other native students as well."
In an interview days before the ceremony, Reed emphasized the value of education.
"My mother encouraged me to get an education. She was a field laborer," Reed said. "I think I'm the first or second California Native American woman to get a Ph.D."
Reed invited Sac State alumni and former students to volunteer at the event. Fifty students accepted the invitation.
The event included cultural demonstrations, Native American arts and crafts booths and a performance of the Native American rock opera "Something Inside Is Broken." The California Native Nations displayed their flags at the west steps of the Capitol building.
Native American Veterans were honored by Tribal Leaders from Northern, Central and Southern California.
"We defended our homeland and we volunteered. We were not drafted," said Richard "Wind Feathers" Muniz, a Vietnam veteran from the California Valley Miwok Tribe. "They are our warrior heroes."
Reed said that Native people have fought in every conflict on both sides.
The occasion is intended "to celebrate the rich and diverse history of California Native American Tribal Nations," according to literature from the event.
The event was sponsored by The Central California Tribal Chairpersons' Association, The California State Tribal Liaisons, the Northern California Tribal Chairmen's Association, and the Southern California Tribal Chairmen's Association with legislative sponsors including State Senator Tom Berryhill and Assemblymember Frank Bigelow.