Hornets take first Big Sky loss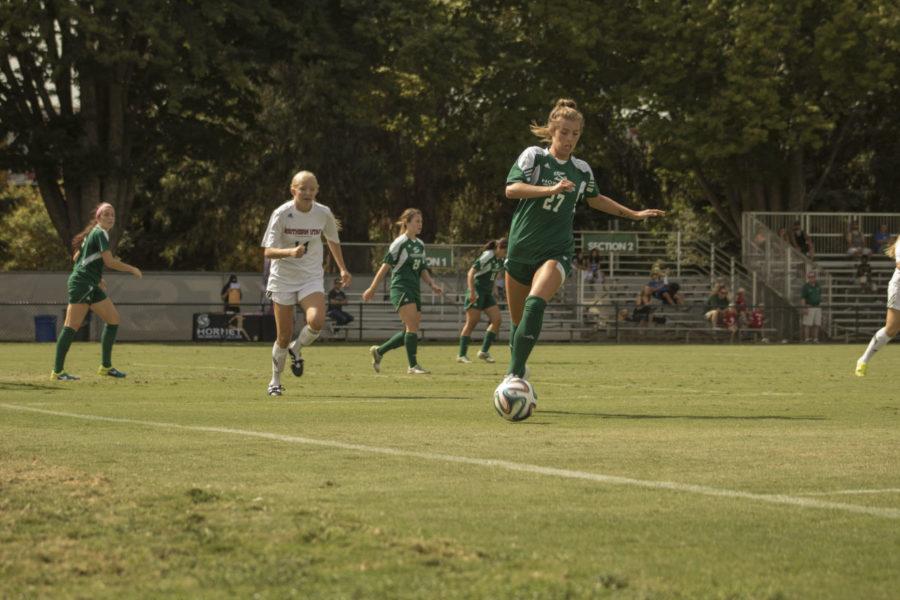 The Sacramento State women's soccer team had their first conference loss 3-1 against Eastern Washington University on Friday afternoon.
Eastern Washington took a quick 3-0 lead and the Hornets scored their first goal in the 88th minute.
The Hornets' only goal came from redshirt junior Alyssa Anderson, which was her first goal since missing all last season due to a torn ACL. Anderson led the team with a total of five shots in the game.
In the first half, Sac State had only five shots and Eastern Washington had 13. The Hornets picked up their play the second half earning two more shots than the Eagles.
Head coach Randy Dedini wasn't satisfied with the way his team performed in the first half.
"Eastern Washington is a good team," Dedini said. "We came out a little flat in the first half and we did not set the tempo that we wanted to, and they capitalized on it."
In the second half, Sac State had five saves while the Eagles had two.
Junior Kassidy Kellogg felt the team didn't flow well together during the first half.
"As a team we all just came out slow and we just struggled in the first half," Kellogg said. "The first 10 minutes were good, but then they started putting the pressure on us and we started playing their game which was just kickball and there was no rhythm to the game."
Junior Sofia Chandler thought the team's second half was strong.
"In the second half we came out and played the game that we normally do and that's why we scored a goal," Chandler said. "We won the second half, but obviously it's a two-half game and we didn't perform the first half."
Eastern Washington's forward Savannah Hoekstra scored the first two goals and Chloe Williams scored the third goal in the 29th minute.
The Eagles had one save in each half, and the Hornets had two in the first and five in the second half.
Sac State will continue on the road facing the University of Idaho on Sunday at 1 p.m.