Hornets set to face Washington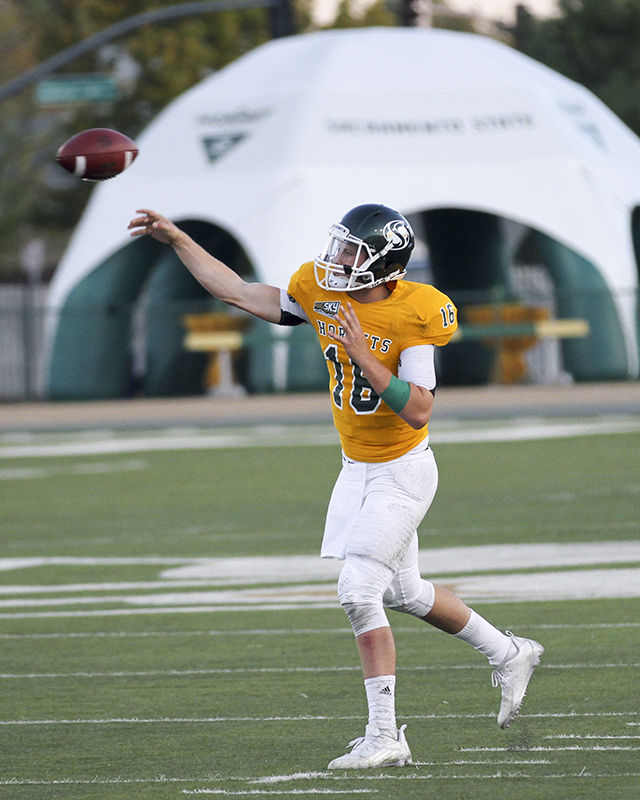 After opening their season with a 41-20 blowout win against Eastern Oregon University, the Sacramento State football team will face a tougher test when they go head-to-head against the University of Washington in a road matchup on Saturday.
It's a matchup that will feature local Sacramento area products in the Hornets' Daniel Kniffin, a sophomore, and Washington's Jake Browning, a true freshman.
"He's a stud," Kniffin said about Browning. "He's a perfect spread quarterback, he knows how to read defenses. Our defense has to do a good job of shutting him down."
Kniffin threw with Browning at Folsom High School coach Troy Taylor's quarterback academy when both of them were in high school. Taylor was Browning's coach at Folsom High and Kniffin's quarterback coach at Rocklin High School.
Kniffin went 22-for-34 with 282 yards and two touchdown's in his first collegiate start against Eastern Oregon University.
The sophomore's 282 passing yards were good for the most in program history by a quarterback making his first start.
Sac State coach Jody Sears said it's exciting to have two local guys opposing each other at quarterback this Saturday.
"You have two local products on a big stage," Sears said. "It also bodes well too for the local talent and the local high school coaching that's here and the talent that's in the surrounding area."
Saturday's game also features a young Hornets defense against a young Huskies offense.
Washington has three sophomores and two freshmen on its starting offense, while Sac State has three freshmen and three sophomores on its starting defense.
When facing a passer like Browning, Hornets linebacker Darnell Sankey said it's important for the defense to contain the young quarterback.
"He could scramble a little bit," Sankey said. "We just have to make sure when he starts scrambling to keep him contained. His main thing is passing, he's pretty accurate."
The Hornets' defense was lights out against Eastern Oregon, as they allowed 244 yards of total offense, and 121 of them came during the fourth quarter. In the first half, Sac State allowed 76 yards, including one rushing yard.
To keep the defensive momentum going against a Football Bowl Subdivision program, Sankey said it's important to have good preparation, especially for a tougher opponent.
"I think we just have to go into the game [to be] just ready," Sankey said. "We acknowledge that they're probably a little bit better than the opponent we played last week, but we're going to go in there, read our keys and gang tackle and get the ball out."
Playing a Pac-12 program, Sankey said his mindset and preparation remains the same as it is every week, as they're the next team on the schedule.
"Crowd is a little bit bigger…[and] a little bit louder," Sankey said. "We're prepared and we're going to go out there and give it our all."
Last weekend, various Football Championship Subdivision programs pulled off upsets against FBS programs including wins from Big Sky Conference participants Portland State University and University of North Dakota. Portland State defeated Washington State University 24-17 and North Dakota defeated University of Wyoming 24-13 on Sept. 5.
After Portland State and North Dakota pulled off upsets, Sankey said there's no reason why Sac State shouldn't have a chance against Washington.
"We could go in there and compete with them just like they could compete with anybody else," Sankey said. "We beat [University of] Colorado and Oregon State in the past, we compete with some top schools, so this is just another game."
Kniffin said Sac State could compete with any team on any week.
"As long as we prepare well and stick to our game plan, anything could happen on any given day," Kniffin said.
Sac State's road matchup with the Huskies will kickoff at 11 a.m. on Saturday.
The Hornets will look to defeat an FBS and Pac-12 opponent for the first time since they defeated Colorado 30-28 on Sept. 8 2012.