Men's soccer drops season opener at SMU by 2-0 final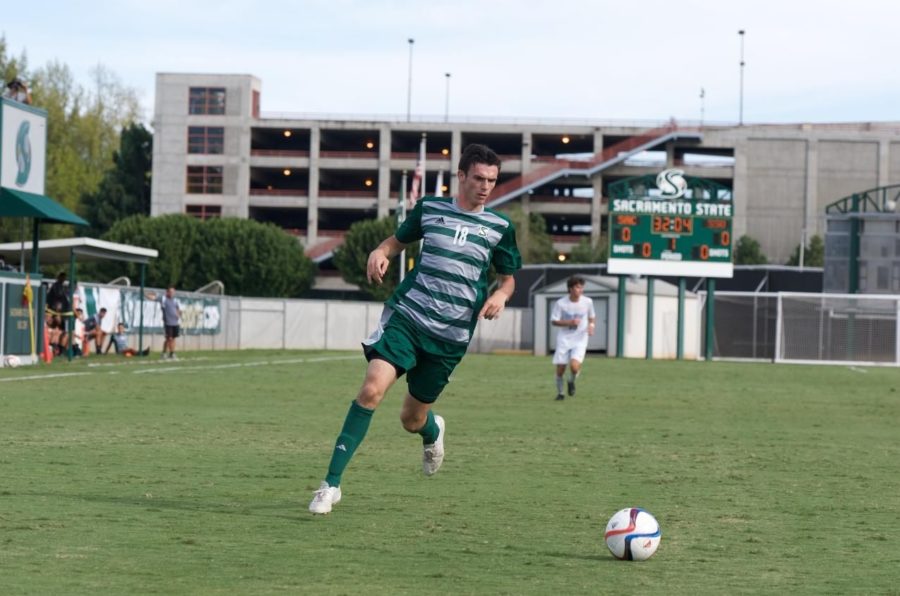 In a fairly even game, Sacramento State men's soccer (0-1) opened up the 2015 season with a road loss against Southern Methodist University by a score of 2-0 Friday night.
It was the first time in program history the two squads faced each other, as SMU (1-0) outshot the Hornets 8-5 in the game.
"Obviously disappointed with the results, but I felt we played fairly well through the majority of the game," said Sac State coach Michael Linenberger. "I thought it was a pretty even game…we played relatively well for the first real game of the season on the road against a good opponent."
SMU took the lead when freshman Caleb Smith scored in the 28th minute, which was his first collegiate goal. The Mustangs' Mauro Cichero and Jared Rice each had an assist on the play.
The score remained 1-0 until the Mustangs extended their lead with a Stanton Garcia goal in the 83rd minute. Cichero had his second assist of the game on the play.
Sac State couldn't overcome the limited scoring opportunities in the first half, as they were outshot 4-2. SMU also outshot the Hornets 4-3 in the second half.
The Hornets couldn't capitalize on four corner kicks in the second half. They struggled to create scoring chances late in the game, as sophomore Paul Geyer and freshman Christian Guzman were responsible for the Hornets' two shots on goal of the contest.
"We need to create a few more chances [and] be a little bit more dangerous," Linenberger said. "I thought we got into dangerous situations frequently in the game… maybe we were hesitant to shoot, trying to dribble to one more guy or one more pass instead of taking the chance to shoot ourselves. So we need to get a little more confident in that final part of the field and take some chances."
Despite allowing two goals, Sac State goalkeeper James Del Curto kept the Hornets in the game with three saves.
Linenberger was pleased with Del Curto's performance and said he did everything he could to keep his team in the game.
"I thought he made all the routine saves today and made one fantastic save," Linenberger said. "That's what we ask for our goalkeeper, we say 'We need you to make all the routine saves,' and if he could have one or two big saves a game to keep us in it, you're doing your job."
The Hornets will look to shake off the defeat when they head to the University of Tulsa, where they'll take on the Golden Hurricane on the road 5 p.m. PDT on Sunday.