DeAndre Carter prepares for upcoming NFL Draft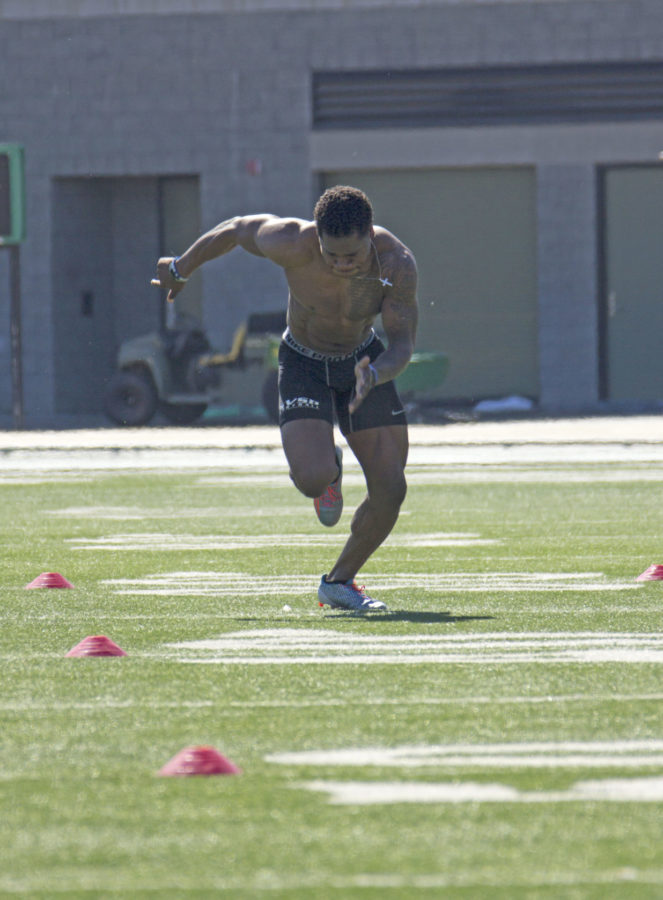 Starting Thursday, hundreds of college football prospects will anticipate getting their name called during the 2015 NFL Draft, including former Sacramento State receiver DeAndre Carter.
Currently, Carter is projected as a seventh round selection, according to Lance Zierlein and Chad Reuter of NFL.com.
"Hopefully I get drafted and hear my name called," Carter said. "That'll be a great experience for me and my family."
Every year, Carter watches the draft, but being a prospect that could potentially be selected makes this year special for him and his family.
During the draft, Carter and his family will hold a draft party at his grandmother's house in San Jose, California on Saturday, which will be day three of the NFL event.
"I'll be watching [with] anticipation hoping to get my name called," he said. "It'll be a little different than years past."
Prior to the draft, Carter has worked out for NFL teams, including the Arizona Cardinals, New England Patriots, San Francisco 49ers, Oakland Raiders and Indianapolis Colts.
Other teams he's been in contact with include the Miami Dolphins, Baltimore Ravens, Tampa Bay Buccaneers and Cleveland Browns.
During his visits with the 49ers and Raiders, Carter met with both of the franchises' head coaches, Jim Tomsula and Jack Del Rio.
Carter said he enjoyed his time meeting with Tomsula and Del Rio.
"[Tomsula] is a real laid back, chill coach, but he'll get after you if he needs to and is a real good guy," he said. "[Del Rio] is a good guy. He's been in the league for awhile and [I] have a tremendous amount of respect for him [because of] the success he's had throughout the league."
During his collegiate career at Sac State, Carter mostly lined up on the outside, but due to his size (5 feet, 8 1/2 inches, 185 pounds), he's projected to play as a slot receiver and kick returner in the NFL.
"I think he'll fit right in," said Carter's offseason receiver coach Rick Gatewood. "He could bring versatility … I feel he could do well on special teams and [has a] consistency of catching a football as well."
Hornets' coach Jody Sears said Carter has the maturity to handle himself off the field.
"He's a principle man," Sears said. "He is very diligent in the way he goes about his business. He's not a flamboyant party guy [and] he seems to be a much grounded young man in his faith."
Not only does producing on the field matter to Carter, but being productive off the field is equally important to him.
"If you produce more on the field, you'll have more of a chance to impact other people off the field," Carter said. "If you get in trouble off the field, it takes away from your production on the field."
While on the verge of accomplishing his dream, Carter wants to show people that dreams are possible with hard work and dedication.
"Growing up, a lot of people told me that being in the NFL is an unrealistic goal for me," he said. "Just letting kids know, as long as you put the work in and you believe in yourself and your dream … it's definitely possible for it to happen."
Surrounding himself with positive people has helped Carter keep himself level-headed as he strives toward his dream of playing in the NFL.
"I try to surround myself with people that have the same mindset as me," Carter said. "All that's going to do is help push you and your friends, family members or mentors. You could always push each other and they'll push you … and stay on a straight narrow."
Last season, Carter finished his historic career at Sac State, with multiple accolades, such as earning All-American honors from the Associated Press and the Football Championship Subdivision Athletics Directors Association. Also, Carter was the only player to receive a unanimous first team All-Big Sky Conference selection.
At Sac State football's annual team banquet on April 18, Carter was awarded the Hornets' 2014 team MVP honor.
In Carter's senior season, he had 99 receptions (first in the FCS), 1,321 receiving yards and 17 touchdowns, which set single-season school records in each category.
During Carter's pre-draft process, he participated in the NFL Players Association All-Star game on Jan. 17. Carter gained scouts' attention during the week of practice leading up to the game.
He followed up with an impressive pro day, at which his results included a 40-yard dash time of 4.4 seconds, a vertical jump of 38.5 inches, a 10-foot, six-inch broad jump and 17 bench press reps of 225 pounds.
The NFL draft will broadcast live from Chicago starting Thursday, April 30 through Saturday, May 2 on ESPN and NFL Network. Round one will be televised on Thursday, two and three will begin on Friday and rounds four through seven will take place on Saturday.