Students connect with mind, body and soul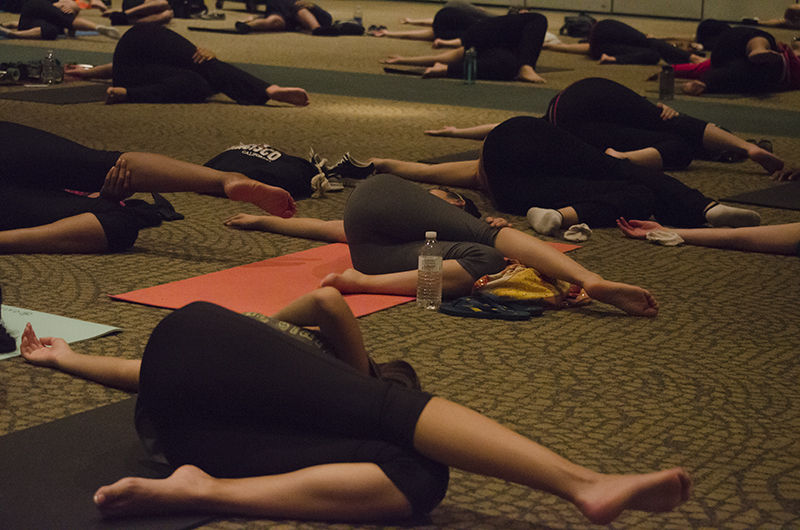 Students rolled up their yoga mats and headed to the University Union Sept. 25 for a free night of yoga hosted by Sacramento State's UNIQUE.
Although UNIQUE expected to have a turnout of 40 to 50 people, more than 100 people packed a partitioned ballroom for the event.
Originally, only one-third of the ballroom was available for yoga night, but by the start of the class at 7:30 p.m. there were more participants than floor space, and the partitioned wall was removed for more room.
Many of the participants were new to yoga, and the event eventually ran out of yoga mats to lend because so many students showed up.
Junior psychology major Lorene Dorado was new to yoga but said she loves child's pose because of the mental break it gives her.
"It's very relaxing and makes me like stop and not think for a while," Dorado said.
Kyla Straw and Rebekah Pantega are both freshmen nursing students carrying 15 units and were in need of some relaxation.
"We need to let go without homework," Straw sighed.
Pantega taught herself yoga through Youtube videos because she wanted to be more flexible, but the relaxation aspect is most appealing now.
"It's a really good stress reliever," Pantega said. "We need something."
The 90-minute instruction began with an introduction to basic yoga postures.
Instructor Bart Firch—who approaches his 3,000th yoga class this fall—led yoga night with help from The Well coordinator of group fitness Kendra Densmore and The Well instructors Eric Jurado-Riviera and Keaton Jones.
The first set of postures was a vinyasa flow series that got the heart rate up. The last thirty minutes were dedicated to core exercises and stretching.
"I know that some of you guys have friends here, so feel free to gaze lovingly into each others eyes," Firch teased as he asked yogis to lie on their backs and stretch to their sides.
Near the end of the class, students could hear a pin drop in the room of 100 stretching students—all attention was on Firch. In the last, still moments he asked students to lie on their backs and simply be still.
"In this moment, everything is okay," he said. "Relax for maybe the first time this semester."
There are five "mind/body" classes offered at the Well: mat pilates, power yoga, total barre, yoga for all and sunrise yoga. A semester pass costs students $48 a semester, but Densmore said the half-price, mid-semester pass will be available mid October.
There are also weekly specials available for students who still want to give yoga a try without the financial commitment. On Friday, Oct. 3, The Well is hosting a free hour-long yoga class at noon.
For those ready to commit, there are six yoga classes offered on Mondays and Wednesdays, three offered Tuesdays and Thursdays and one on Friday and Saturdays.
"How many of you can afford a massage all the time?" Firch said. "Not many. So start with yoga."