Communications student aspires to continue her professors' legacies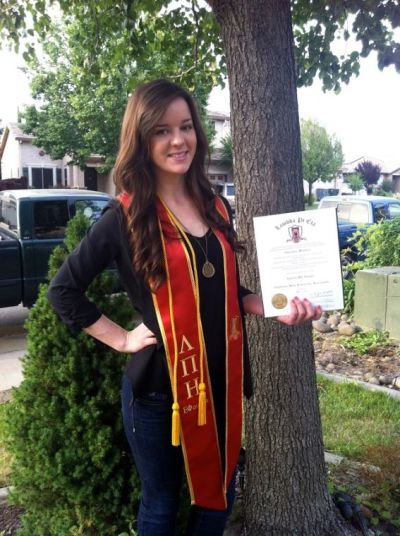 Organizational communications major Christina Medders discovered a passion for teaching through an educational career at Sacramento State and credits certain professors for inspiring her to continue their legacy.
While serving as president for the communications honor society Lambda Pi Eta, Medders discovered a career path for teaching while assisting communication professor Thomas Knutson last semester.
Professor and advisor of Lambda Pi Eta Edith LeFebvre has served as a mentor to Medders. She encouraged Medders to teach and has given her advice along the way.
The experience allowed Medders to observe, participate and acquire the skills it takes to be a professor at a college level.
"Christina displays a remarkable ability to relate her knowledge to audiences," Knutson said. "She is the consummate rhetorical sensitive (the ability to adapt to a variety of audiences), a trait useful to teachers and also communicators in general. In short, Christina exhibits the best in scholarly tradition."
Medders passion for teaching education was not something she planned on, but her teaching assistant position led her to realize her career aspirations.
"Christina recognizes her goal, but more importantly, actively seeks to develop the skills necessary to reach her goal of becoming a professor," Knutson said.
Medders said she was fortunate to be able to learn from Knutson.
"It's been such a rewarding and special experience to me because through doing that, I've really been able to see, through a teaching perspective, what it's like to be a role model," Medders said.
As president of Lambda Pi Eta, Medders interacts with people constantly, whether she is making plans for the society or is helping members concerning school issues.
"Through being president, it's made my experience at Sac State completely different from what I ever thought it would end up being," Medders said. "When I first started at Sac State, for me, it was a commuter school. After being in Lambda Pi Eta, I can't wait to get to school.
Medders said she has become confident in organizing and managing groups, as well as communicating with individuals to accomplish tasks by working with others.
"Christina has brought in energy, competence and organizational skills that I have not seen from somebody at her level," LeFebvre said.
Medders attributes the honor society to providing her with valuable lessons of working with others, real world managing experiences and being someone people can count on.
"In the leadership capacity, her ideas are so good and she needs such little hands on guidance," LeFebvre said. "As a student, she stood out as being the one that I would grab her paper first because I knew she was going to set the standards."
As a student, Medders said she is aware of the problems students may face and also serves as a mentor.
"I think [Christina] does an excellent job as a leader in coordinating and delegating tasks to ensure that our organization runs smoothly and provides learning opportunities to our members," Lambda Pi Eta member Christina Ortega said. "She takes the time, even in our non-communication classes, to inform members and non-members about upcoming events and opportunities."
This semester, Medders was offered the opportunity by Lefebvre to give a presentation on organizational communication in a large lecture class.
"I know she's going to go on and succeed in anything she does because that's the kind of person she is," LeFebvre said.
Medders graduates this Spring and plans to start a career in organizational communication before continuing in higher education.