Hornets hope to regroup at home after two road losses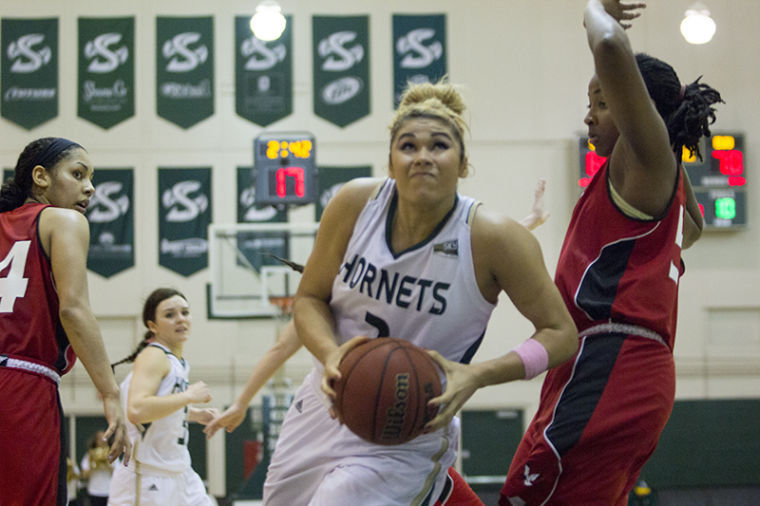 State Hornet Staff
February 26, 2014
After losing back-to-back games, Sacramento State women's basketball is looking to regroup at home against Weber State University Thursday evening.
The Hornets (16-9, 8-8) are coming off consecutive road losses to Northern Colorado and North Dakota.
Sac State, the best scoring team in the Big Sky Conference at 85.8 points per game, combined for 112 points in the two contests on just 29.1 percent shooting.
February has been the worst month for the Hornets in terms of scoring, as they have averaged 79.0 points per game this month.
Hornets head coach Bunky Harkleroad said it will be important for his team to regain momentum against Weber State.
"We have an opportunity to re-establish momentum this weekend," Harkleroad said. "Obviously we have to play well and play hard, as well as knock some shots down."
Hornets' senior guard Alle Moreno, who will play her last game at the Nest on Saturday afternoon, expressed similar thoughts.
"It's going to be really nice being at home," Moreno said. "Hopefully our shots will be there and we're going to have to play some really good defense."
Sac State junior forward Shanti Smith placed an emphasis on the home crowd providing a boost for the team.
"I think its going to come down to finding our will," Smith said. "Moral is a little low, but we're comfortable playing at home so I think that will help us out a lot."
The Hornets possess an 11-2 home mark and have averaged 92.5 points per game at The Nest.
Weber State (6-19, 2-14) enters play as the last team in the Big Sky, with its two conference wins coming in the last three games.
The Wildcats pulled off a victory against Idaho State on Feb. 17, followed by an upset over second place Montana on Feb. 20.
Sophomore guard Desiree Ramos has led the Wildcats in scoring with 13.5 points per game, with senior forward Amanda Hughes following behind with 12.7.
Weber State shoots 40 percent as a team, including 30.7 percent from 3-point range.
Tip-off for the game will be at 7 p.m. at The Nest.