Students prepare for the future with Career Center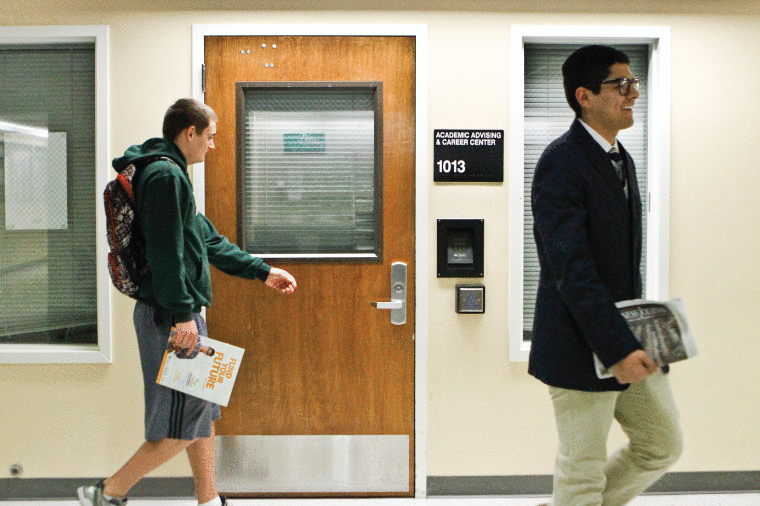 Child development major Aneece McKinney, 22, is among the many fall 2013 Sacramento State future graduates who have yet to find a job relevant to their degree.
"I think my education has helped me, but I've been looking for a job and it's hard," McKinney said.
Although students said they have the education and tools to graduate, some said they are nervous about life after Sac State because of the heavy competition from today's job market.
"It's a sad and scary feeling, graduating," said communication studies major Kelly Grealish, 22. "You know a great time in your life is ending. I definitely feel prepared. It's going to be hard, but I'm ready for what the future holds."
Cein Mathisen, employer relations liaison at the Career Center, said the services offered through the center are capable of preparing students to find jobs after graduation, including resume reviews and career fairs.
"We try to offer a variety of services and programs for all of our majors here at Sac State," she said. "We'd like to see more students utilizing our services."
Mathisen said many students are not taking advantage of the Career Center and would be surprised to learn about what it could do for them.
"At the Career Fair this fall we had about 1,800 students in attendance out of about 30,000," Mathisen said. "We'd certainly like to see that number increase."
She also said based on the feedback from employers, there is still a lot of work students can do to prepare themselves for the job market, such as internships.
According to the Bureau of Labor Statistics, 3.7 percent of adults age 25 and older with a bachelor's degree were unemployed in September of this year.  
With heavy competition in the job market for post graduates, Mathisen said one way to gain an advantage is through relevant work experience.
"We're not necessarily out of the [economical downturn] we've been in for the last couple of years, where finding a job has been difficult," Mathisen said. "But it's getting better and it is improving. What employers are looking for is not just the degree, they want you to have had some sort of experiential learning experience, whether it's volunteer work or an internship."
Mathisen also said the Career Center offers several experienced learning coordinators who work with one or multiple colleges on campus. They work with the faculty to understand the needs of that particular student body population.
Though the Career Center offers help to a wide range of students, McKinney said she does not benefit from the resources as much as other students would.
"I've been to job fairs and I've tried using the Career Center," McKinney said. "I think the services are helpful for many majors like business, government and communications because they deal with internships. For majors like mine that don't need internships, I feel like they don't reach out or are as noticeable."
Troy Petrunoff, a 22-year-old communications major, said he worries about being unlucky in finding a good job, but his education and internship experience at Sac State has prepared him for the future.
"I do feel like I know what type of company I want to work at; this gives me an attainable goal," Petrunoff said. "General networking on campus has been my biggest resource."
Despite being unsure about their future upon graduating, students like 26-year-old communication studies major William Lim, have already found their place.
"I feel highly confident and at ease," Lim said. "Working for almost eight years has taught me that if you want a job, go get it. A job does not come on a silver platter and it can only be obtained if you're passionate about it."
Lim said at a recent Sac State Job Fair he established networks with high representatives and managers in varying companies.
"The funny part was that two of the hiring managers turned out to be good clients for the company I work for," Lim said. "That just shows you that you'll never know who you will run into these days."