Peak Adventures helps students engage with campus, make friends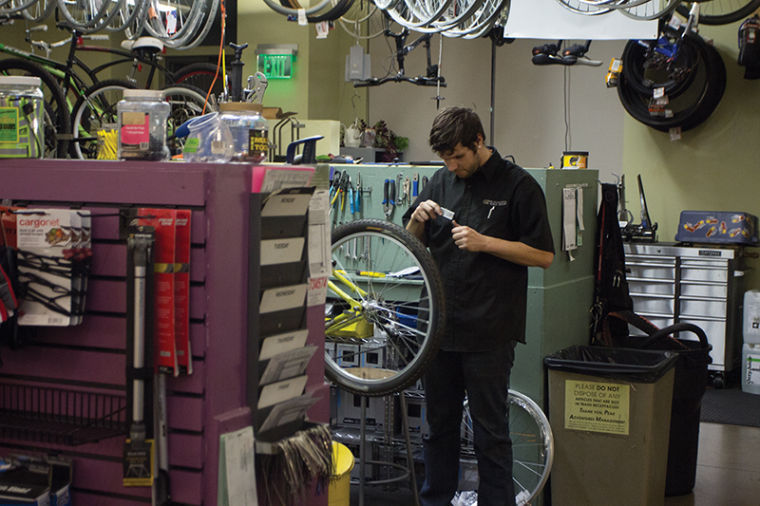 Peak Adventures is an Associated Students Inc. program that offers numerous services and fun activities Sacramento State students can use all year long.
Although the program has grown to serve all of Northern California, students have a greater opportunity to experience the benefits because of its location on campus, next to the WELL.
In discussing plans for the current school year, Peak Adventures Director Jael Young said the program can only focus on a few things, because there is an event just about every day of the year.
Young said 2014 is the 25th anniversary of Peak Adventures as a program on campus.
Last year it unveiled a student-painted mural at the Challenge Center ropes course.
"This coming spring we're looking forward to celebrating our birthday even bigger, because it's (a) quarter century and we need to go big," Young said.
The 2014 calendar will kick off in January and the program is getting ready to launch an online database that will be ready for the new year.
"[It is] much more user friendly online registration for all of our trips," Young said. "You can think about browsing our website after we're already closed."
There are currently several events in November that will help with biking techniques and a clinic that will teach students ways to prepare for the fluctuating weather conditions.
Physical therapy doctorate student Amber Williams uses Peak Adventures' services mostly for the maintenance of her bike, but knows little about the other services.
"This is my first year here so I haven't gotten to use Peak in the outdoor setting type thing," Williams said. I think they're really good for getting students and exploring the outdoors that they wouldn't do otherwise."
Recreation parks and tourism association graduate student Meredith Budlong is the operation specialist at Peak Adventures. She is one of the roughly 40 part-time students who work for the program.
"People get excited about the long trips: spring break going to the Grand Canyon, backpacking up Half Dome, Point Reyes backpacking are coming up in a couple weeks," Budlong said.
Even though trips aim to be fun, Young and Budlong said every trip is an opportunity for students to build skills, relationships and a camaraderie that extends beyond the time spent on trips or courses and clinics on campus.
"We're going to drive you up to a beautiful place," Young said. "We're going to go enjoy nature. You're going to get to not think about any other pressures and just be in the moment, be in fresh air, see some beautiful terrain."
Undeclared freshman Nacy Vang attended a Sacramento Youth Leadership Program camp last summer and went through some of the courses at the Challenge Center on campus.
"I'm scared of heights and I actually had to climb a wall," Vang said. "I feel like I overcame my fear."
In line with her graduate program, Budlong has put together a wilderness trip for the fall that focuses on new student orientation.
Wellness, Independence, Learning and Discovery, or W.I.L.D., will take place August 2014 and is designed for new students to come and build networks and relationships before they start school. It will also teach stress management techniques, time management and other skills that will help them be successful in college, specifically at Sac State.
The plan is to have a freshman, transfer, graduate and veterans section.
"We want them to really feel comfortable with people that have some similarities," Budlong said.
Young and Budlong said Peak Adventures offers a lot more than what appears to be on the surface of these trips and challenge courses.
Young said there's plans for horseback riding to be available this spring, while snowshoeing and snowboard or ski trips will be available throughout winter.
"You never know, some people become roommates, sometimes people end up getting a job through networking," Young said. "It's a chance to talk to somebody, since there's nothing else to do but hike and enjoy the beauty."
The Bike Shop next to the WELL is open Monday-Friday 9:00 a.m. – 5:30 p.m.
All future trips and events can be found posted on their website at www.peakadventures.org.