EGG sizzles up Serna Plaza at Wednesday Nooner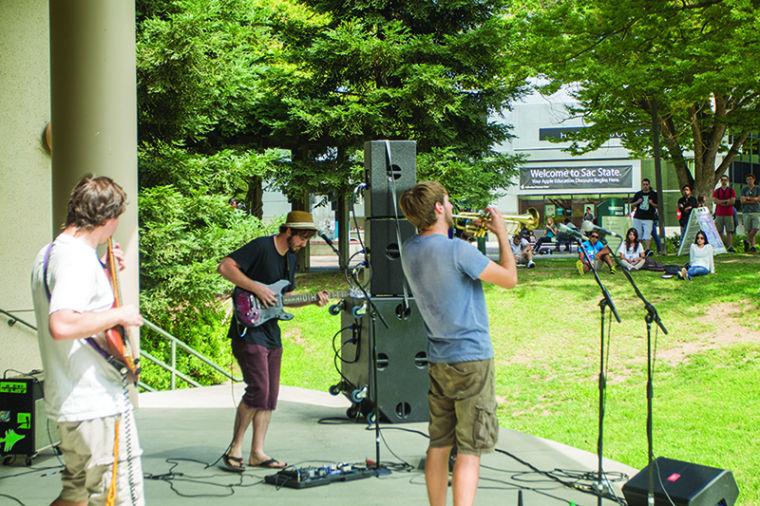 Anyone can make yokes about being an egg, but it takes five guys from Winters to form the band known as EGG — last week's live performance at the Wednesday Nooner.
Together Joseph Sanders (guitar/vocals), Nick Hawley (bass), Carlos Figueroa (drums), Chris Patton (trumpet/vocals) and Brett Hendrickson (keys) hail from the small city of Winters to present a raw fusion of alternative, funk, jazz, punk and psychedelic rock.
For those wondering, the band likes to say their name came from a journey to the Amazon where they found a secret egg. The true story is a little less exciting, but they're sticking to the journey story which is a testament to their fun, spirited nature.
"Originally EGG formed as a three piece between Carlos, Joey and Nick," said Patton. "We're just freeloaders."
When it comes to making music, the band comes together from being influenced by such bands as Tool and Dredg. Their sound is very much like the kids in your local neighborhood who constantly have jam sessions in their garage, except these guys are enjoyable and know how to draw a funky crowd.
"Generally, Nick has a riff and then we just build a house on it," said Sanders, "Nick's pretty much the genius of the band."
Hawley gets a lot of credit from his band mates. Who came up with the band's name you ask? All fingers point unanimously and exclaim, "Nick." He even has a tattoo of an over-easy egg sizzling down the back of his left calf. A clear sign of devotion to the band.
"There's just so many of us, we find it hard to write our songs," said Patton. "Our songs never end," added Figueroa.
Sanders and Hawley collaborated to write most of the songs' lyrics. The band as a whole is described as a group of guys who want to spread "songs of truth, love and harmony."
"We're always wondering what to call ourselves, but I guess 'fusion' is the correct word," said Patton.
In fact their live show is a hearty blend of jam sessions that skipped across a pond of funk, jazz and a dose of psychedelic rock. As their song "Baloo" states, "That's alright 'cause I'm a goofball positive-type."
Their latest album titled "Overly Easy" came out earlier this year on Feb. 22 and was recorded at The Formulation Room here in Sacramento. EGG considers themselves to be musically at home in the capitol. In regards to any new music, "Sometime next year – probably summer-ish," said Hendrickson.
EGG will be performing tomorrow at Bisla's at 8 PM. They will also be playing Sept. 27 at Harlow's in Downtown Sacramento.
—
Jessi Naomi will be performing at today's Wednesday Nooner. Naomi is a Blues, R&B, soul singer/songwriter from Humboldt. Be sure to check her out!
Cesar Alexander can be reached at statehornetarts@gmail.com