Men strut their stuff for a cause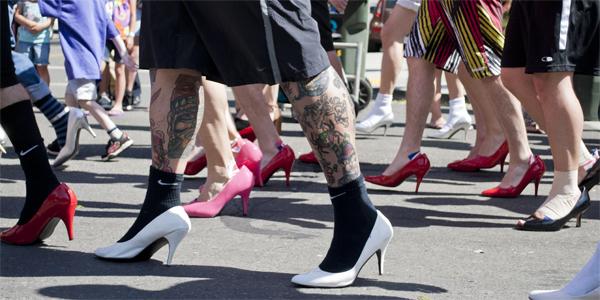 More than 600 men 'click-clacked' around Capitol Mall Saturday to raise money and awareness for those who have fallen victim to domestic violence and sexual assault. 
Non-profit organization WEAVE Inc., Women Escaping A Violent Environment, has hosted Walk a Mile in Her Shoes since 2011 and the event has steadily grown in size every year. This year, $199,393 will go toward the development of WEAVE's support system for victims. 
Men of all ages showed their support for the cause by dressing up and donning a pair of heels while women lined the course and cheered them on throughout the one-mile journey. 
"Once I knew about WEAVE and was educated more about it, I felt it was a very strong cause for me to put myself out there and raise some money," said first-time participant Kyle Grossart. "There's some responsibility when you raise that money and I'm happy to do it for such a good cause."
Teams were also formed by companies and outside organizations in order to raise money as a group. There were 547 fundraising group total, bringing in 2,068 donors to pitch in. 
Many teams are repeat participants and continued the tradition of running, walking or helping each other hobble to the finish line. 
"This is the second time I'm doing this with our fraternity Tau Kappa Epsilon and it's a good cause that we do together to help raise awareness," said Juan Gonzalez, a Sacramento State senior communication studies major. "Our buddy owns a nutrition shop…and about 25 of us joined his team."
As the herd of wobbling participants crossed the finish line, volunteers awaited them with beaded, heel medallion necklaces. Each volunteer had to go through training and receive certification before joining WEAVE.
Many of the volunteers offered their services for the exact same reasons the men offered to put their feet through agony: to take part in an event that helps change lives.
"I'm an intern at the Women's Health Specialists, where I work with the volunteer coordinator of WEAVE. Gender advocacy is what I want to do and try to do, so when she told me about it I wanted to offer my services," said first-time volunteer Rachael Valler. "It seemed like an amazing and fun event to get involved in, especially when advocating against sexual assault and violence." 
Other volunteers offer their time and effort for personal situations that family or friends have endured – some in memory of a loved one. 
Sonja Lugo is a regular volunteer for WEAVE's Sexual Assault Response team but Saturday's event was her first time at Walk in a Mile in Her Shoes. She said she volunteers in honor of a family member who passed away. 
"My cousin passed away from domestic violence three years ago. I do this for her," Lugo said. "I'm the only one in my family who volunteers but they come out and support this as well." 
According to domesticviolencestastistics.org, every nine seconds a woman in the U.S. is assaulted or beaten. WEAVE was established in 1978 in order to lend a hand and put a stop to the violence. 
Booths, food trucks and other supporting causes organizations set up posts for the participants. 
Once the walk was complete, supporters and volunteers gathered for drinks and food to celebrate while bands played easy music on a stage to celebrate the feat participants accomplished. 
"The good news is that (the heels) weren't brand new so I only have one blister," Grossart said. "The fun part was checking out the shoes – I wear a size 15 in women. I was comfortable with the concept and the shoes weren't too bad. I admire anyone who wears high heels for a high percentage of their time."