Breakfast burritos for a healthier, non-greasy meal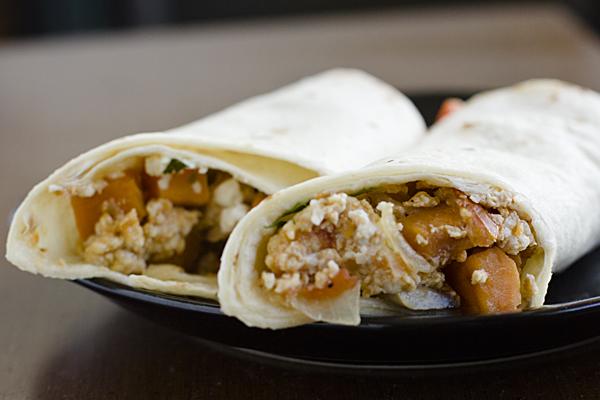 It's 3 a.m. You're rummaging through the fridge, looking for a piece of lasagna your roommate made last week. It's not the ideal meal you had in mind, but after a long night of drinking, you're desperate to curb the hangover that's ominously awaiting you in the morning.
The unwanted after effects of a night of drinking may feel all too familiar for many college students. The headaches, sensitivity, nausea and dehydration are often times mistreated with heavy, fatty foods that can worsen the problems you're trying to fix.
According to CNN.com, the grease in fatty foods such as burgers, pizza or leftover lasagna can help repel the toxins from alcohol before its consumption, but afterward may only exacerbate symptoms of a hangover. In other words, stick to fatty foods before drinking, not afterward.
Almost all of the ingredients in this breakfast burrito help curb the symptoms of a hangover. The feta cheese contains beta-carotene and vitamin A, which "slows the destructive force of alcohol" and the tomatoes' vitamin C help cleanse the liver, according to Dora Walsh, head nutritionist at nutriheal.net.
According to Tammy Lakatos Shames, R.D., author of "The Secret to Skinny," eggs contain high levels of cysteine, which "help mop up alcohol's leftover toxins." Sticking to egg whites also eliminates the cholesterol found in yolks and will still add plenty of protein to your diet.
The potassium in these add-ins – sweet potatoes and mushrooms – can help restore electrolyte balance and replenish fluids in the body, according to The National Institutes of Health. Also, the starchy carbohydrates found in the potatoes and flour tortillas can help counteract nausea caused by drinking, according to an article in the journal "Alcohol Health and Research World."
This burrito is not just packed with ingredients to help ease a hangover; it's also a healthy breakfast option that tastes just as good as any diner grub offered after dusk.
The eggs adopt the sweet flavors from the potatoes and caramelized onions, which pairs well with the creamy and salty feta cheese and is aromatically punctuated by the strong cilantro flavor. The tortilla envelops all the ingredients together and helps the cheese melt and become gooey, so every bite is filled with warm mouthfuls of hangover-fighting goodness.
This recipe is adapted from mensfitness.com.
Breakfast Burrito
Serving size: 2
2-3 tablespoons olive oil
1 sweet potato
Salt and pepper, to taste
1/2 cup onion, diced
1 cup mushrooms, sliced
1 large tomato
6 egg whites
1/2 cup feta cheese
2 tablespoons cilantro, chopped
2 flour tortillas
In a large skillet, heat two tablespoons of olive oil over medium-high heat.
Wash and peel the sweet potato then cut it into 1/2-inch cubes. Add the potato to the skillet and let cook without stirring for three to five minutes. Turn and stir the diced potato cubes. Cook the sweet potatoes for three to five more minutes or until the edges are crisp and golden.
Reduce the heat to medium and let the potato cubes cook until tender. Add the salt, pepper, onion, mushrooms and tomato, and cook until the onions become translucent, stirring occasionally. Add another tablespoon of olive oil if needed.
Add the egg whites to the skillet and stir until fully cooked, about three minutes.
Add half of the scrambled egg mixture to each tortilla. Add the feta cheese and cilantro on top. Wrap both sides of the tortilla inward then roll it up from the bottom, to seal both sides.
Although you'll be tempted to add a few slices of crispy and greasy pig back onto your plate, it's safer to stick to foods that won't further upset your stomach.
Sometimes it's okay to say no to bacon.
Cristina Lule can be reached at [email protected]