Snack on crispy and addictive cream cheese wontons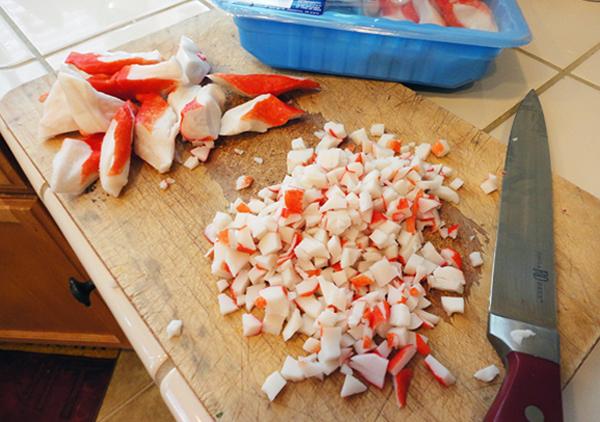 Growing up, if someone mentioned crab wontons at my house, my brother and I would instinctively put on some decent attire and get into the back of my mom's Nissan while we waited for our parents to drive us to Dragon Inn – a Chinese restaurant in Marysville that serves the crunchiest and creamiest crab wontons I've ever had.
The crab wontons are fried, so they come out crunchy and golden brown on the outside and warm and creamy on the inside.
My dad used to take my mom to Dragon Inn while she was pregnant with me and he would jokingly say the reason I loved the crab wontons so much was because I've been eating them since before I was born.
I've had so many of these savory pastries over the years, I decided it was time to make my own and enjoy them in the comfort of whatever attire I wear at home – usually pajama bottoms.
These crab-filled crescent wontons taste almost as good as Dragon Inn's and are baked ,which makes them healthier and less dangerous to make (If someone could share the secret to not burning oneself when handling boiling oil, I'd love to hear it).
The crescent roll dough gives them a flaky texture and buttery taste while the garlic salt brings out the tangy flavor of the cream cheese. Each bite brings about a variety of sounds. First, the cracking sound as you bite into the wonton's crunchy outside, then the heavy panting of breath when the cheesy crab filling burns one's mouth and, finally, that low moan in the back of the throat that signifies the satisfaction of eating something tasty.
Their bite-sized shape also makes them perfect for parties and small gatherings, where guests can synchronize their sounds.
This recipe is adapted from Pillsbury.com.
Crab-filled Crescent Wontons
1-8 ounce tube crescent roll dough
3 ounces cream cheese, softened
¼ cup mayonnaise
¾ cooked crabmeat, chopped (imitation crabmeat can be substituted)
2 green onions, chopped
2 tablespoons garlic salt
1 egg white
Preheat the oven to 375 F degrees.
Spray a cooking sheet with cooking spray.
Unroll the dough on a sturdy flat surface. Pinch the seams to seal and roll with a rolling pin to create an even rectangle. Cut the dough into rows of six and columns of four to make 24 squares total.
In a small bowl, mix the cream cheese, mayonnaise, crabmeat and green onion. Using a tablespoon, scoop out some of the crab mixture and drop it in the middle of a square of dough. Fold one corner of dough over filling and tuck end tightly underneath filling. Continue rolling to within ½ inch of opposite corner. Roll opposite corner of dough over roll and press to seal. Place on the cookie sheet.
Repeat for remaining squares and brush top with egg white. Sprinkle the garlic salt over the wontons.
Bake for 10 to 15 minutes or until golden brown. Let cool on cookie sheet for about five minutes then go to town on them.
These crab-filled crescent wontons taste almost as good as ones prepared by chefs and, more importantly, you can make them at home to impress your friends without suffering through first-degree burns.
Cristina Lule can be reached at [email protected]