Savory turkey meatball subs to satisfy those Italian food cravings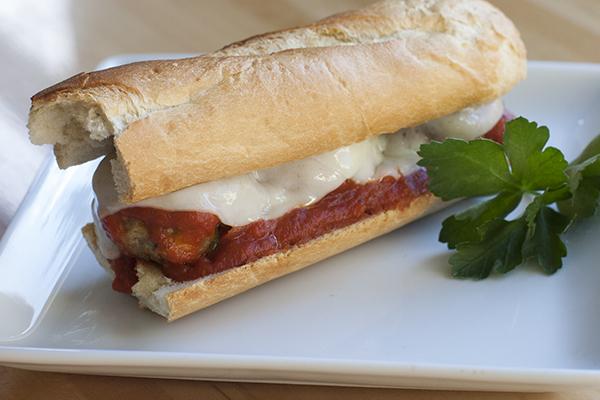 Meatball subs combine two great meal staples into one.
They are a savory Italian dinner in a portable sandwich form that can be customized with different types of meat, cheese, pasta sauce and bread.
The iconic look of sauce-smothered meatballs poking out of a long, narrow loaf of bread has attracted hungry family members to the dinner table for many generations, but the origin of the sub has been debated.
According to whatscookingamerica.net, one theory suggests the submarine sandwich was brought to America by Dominic Conti, an Italian immigrant. Conti opened his own grocery store in New Jersey around 1910, where he began selling his traditional Italian sandwiches with various meats and cheeses. Angela Zuccaro, Conti's granddaughter, said he named the sandwich after a submarine he saw on display at a museum in 1927.
The website also says the submarine is known by many names, depending on the region. In Philadelphia, people call it a hoagie. In Maine, it is known as the Italian and in New Orleans, people call it a po' boy.
It is unknown when meatballs became an ingredient of the submarine, but whoever invented it has the gratitude of many meatball sub lovers.
This recipe is adapted from allrecipes.com.
Meatball subs
Serves: 4
Total cook time: 25 minutes
1 pound ground turkey
¾ cup bread crumbs
2 teaspoons dried Italian seasoning
2 cloves garlic, minced
2 tablespoons chopped fresh parsley
2 tablespoons grated Parmesan cheese
1 egg
1 French baguette
1 tablespoon olive oil
½ teaspoon garlic powder
1 pinch salt
1 (14 ounce) jar marinara sauce
4 slices provolone cheese
Preheat the oven to 350 F.
In a medium bowl, mix the ground turkey, bread crumbs, garlic, Italian seasoning, parsley, Parmesan and egg with a wooden spoon. I use turkey because I don't eat red meat, but feel free to use whatever ground meat you prefer. With your hands, shape the meat into 12 meatballs – about the size of golf balls. Lightly spray a 9 x 9 x 2-inch baking dish with cooking spray and place the meatballs in the dish.
Bake the meatballs for 15 to 20 minutes or until cooked through. To check for doneness, courageously sacrifice one of your meatballs and cut it in half with a knife. If the inside is no longer pink, the meatballs are done.
While the meatballs are cooking, prepare the bread. Cut the baguette in half lengthwise and remove some of the bread's filling to make room for the meatballs. Brush the inside of each slice with olive oil and season with garlic powder and salt. During the last five minutes of the meatball's cooking time, slip the baguette halves into the oven – seasoned-side down – until lightly toasted.
Warm the marinara sauce in a large saucepan over medium heat. When the meatballs are done, transfer them to the saucepan and carefully ladle the sauce over the meatballs until coated.
Place the meatballs on one side of the baguette, add the provolone slices and top with the other half of the baguette. Let it cool for about five minutes then cut into four equal serving sizes.
Regardless of where meatball subs originated or what they are called, they are a satisfying meal that has continued to be enjoyed by hungry people everywhere.
Cristina Lule can be reached at [email protected]