How to make a wicked yummy tofu quiche without eggs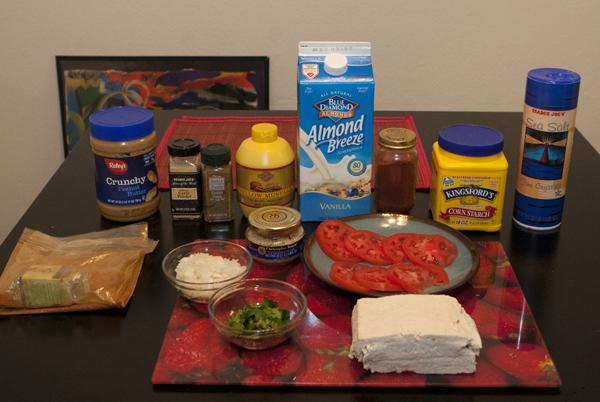 One of my favorite memories is of being on a houseboat last summer and watching a herd of omnivorous middle-aged men and women consume a tofu quiche I had made as if it was the last meal they would ever have.
Each couple on the boat had a duty to prepare a meal – either breakfast, lunch or dinner – for every person on the boat. When signups happened I immediately jumped for a breakfast opening, as I knew it meant I would get to make my famous tofu quiche and love watching others consume – and enjoy – the odd dishes I make.
Unlike a traditional quiche, this quiche doesn't have eggs but it holds similar airiness, color and flavor due to a wicked combination of tofu, corn starch, mustard – yes, mustard – spices and herbs.
Wicked Tofu Quiche
1 12.3-ounce package firm silken tofu
1 tablespoon mustard (bottled – like Heinz)
1/2 teaspoon garlic powder
1/4 teaspoon turmeric
1/2-3/4 teaspoon salt
black pepper to taste
⅛ teaspoon cayenne pepper
1 tablespoon olive or vegetable oil
1 teaspoon minced garlic
½ large white onion, diced
1 tablespoon fresh cilantro, minced
1 teaspoon fresh parsley, minced
1/4 cup non-dairy milk (I used almond milk)
1 tablespoon cornstarch
1 teaspoon tahini, peanut butter or cashew butter
1 tomato, thinly sliced
Preheat oven to 375 F.
When you take the tofu block out of its packaging, it will be a bit of a wet sponge. In order to prevent the water in the tofu messing with the outcome of your quiche's texture and flavor, it is extremely important that you drain the water from the tofu before working with it.
The best way to drain your tofu is by wrapping it in a small towel – similar to how you might wrap a present. Once the tofu is wrapped nicely into the towel, place some heavy books on top of it; the weight of the books will push the water out of the tofu while the towel soaks the water up. If you find you love cooking with tofu and want to do it more often, websites such as Amazon and eBay sell tofu presses, which will save you from many loads of laundry and water-damaged books in the long run.
After 10-15 minutes of draining, take your somewhat-moist tofu and crumble it up with your hands into a medium-sized bowl; the crumbled pieces should look similar to feta cheese. Add mustard, turmeric, cayenne, salt, pepper and garlic powder and mix thoroughly into the crumbled tofu until the mixture is of a yellow color. Don't worry about over mixing – it is all going to end up in a blender anyway. Set bowl aside and allow the tofu to marinate in these flavors for 15 minutes.
As you are waiting, heat oil in a skillet over medium heat. Add the minced garlic and onions and stir until evenly shiny and coated in oil. Once the onions and garlic have cooked 2-3 minutes, add parsley and cilantro and continue to saute 3-5 more minutes until onions are tender, golden and somewhat translucent. Turn off stove and set aside mixture to cool.
Now for my favorite part of the process: blending. Take either a blender or a food processor and add in almond milk, marinated tofu mixture, tahini and the corn starch. The corn starch and tahini – or any other nut butter – are essential ingredients in this recipe as they assist in binding ingredients together during baking and will prevent the quiche from crumbling or breaking when it comes time to slice it up.
Press pulse and allow ingredients to blend together until the mixture is of a creamy consistency. You may have to scrape down the insides of the blender a few times before the mixture is thoroughly blended together. Once it is a creamy, yogurt-like consistency, it's perfect.
Add the creamy tofu batter back into the medium bowl and fold in the sauteed onions and garlic.
Coat a pie pan with nonstick cooking spray and pour in the batter as if you are pouring cake batter into a cake pan. Once the batter is leveled evenly throughout the pan, top it off with tomato slices until there is no space left. Not only will the tomato slices make for a more flavorful quiche – cooking to tenderness and extracting their juices into the quiche – but they will also make for a more aesthetically pleasing dish to serve to others.
Place your quiche on the middle rack in the center of the oven 30-35 minutes, until its top has developed a golden color and is firm – and a bit bouncy – to the touch. Allow to cool 15-20 minutes and slice like you would a pizza with a clean, warm knife for smoother edges. I suggest warming a bowl of water and dipping the blade of the knife in the water after every piece is cut.
If you're ever confused with what to make for dinner guests with special dietary needs – whether they are gluten-free, vegan or are watching their cholesterol levels – I highly suggest taking a stab at this quiche. Everyone will enjoy it and no one will feel awkward like they would have if you went out of your way to make separate meals for everyone. Enjoy every bite guilt-free under springtime sunshine and with many glasses of mimosas.
Janice Daniels can be reached at [email protected]