Enjoy these individual lasagna cupcakes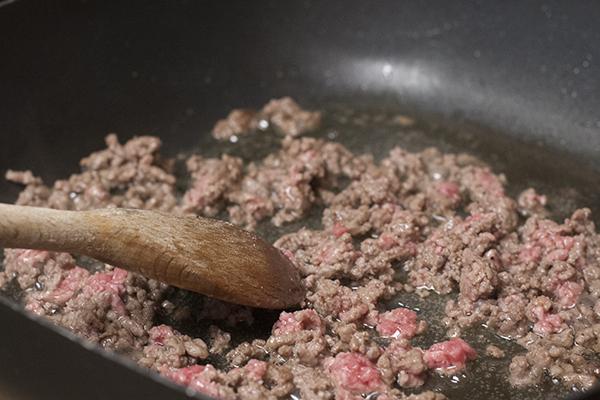 I made lasagna for the first time a few weeks ago. After years of watching my mom make it and some mental preparation, I thought it would be easy.
It's safe to say I'm no Giada De Laurentiis.
The pasta ended up being dry, the ground turkey was over cooked and the front of my shirt got stained with tomato sauce (which tasted bland). It also took me over an hour to make, not including the time I spent washing all the dishes I dirtied up.
What I love about these bite-sized Italian delights is they take out the complexity of making traditional lasagna without sacrificing any of the flavor and cheesy-goodness. They are simple to prepare, there's no big mess to clean up afterwards and they're just as delectable as my mom's lasagna.
Their single-serving size also makes them great party appetizers.
Lasagna Cupcakes
1/3 pound ground beef (I used ground turkey)
Salt and pepper to taste
24 wonton wrappers
1 ¾ cup parmesan cheese, grated
1 ¾ cup mozzarella cheese, shredded
¾ cup ricotta cheese
1 cup pasta sauce (I prefer Progresso)
Basil for garnish (optional)
Preheat the oven to 375 F degrees. Spray the muffin tin with cooking spray until well coated. Make sure to spray on a light coat into the muffin tins, otherwise the wonton wrappers will become soggy and difficult to take out (trust me, I know).
In a pan, brown the beef over medium heat. Add the salt and pepper. When done, drain. Also, if you're using ground turkey, add a little bit more oil to the pan because turkey has less fat than ground beef and can burn easily.
Cut the wonton wrappers into circular shapes (about 2 ¼-inches) using a circle-shaped cookie cutter or the top of a drinking glass. You can also leave the wrappers the way they are so they take the shape of the muffin tin when you assemble them. It also makes them easier to take out of each individual tin.
Reserve ¾ cup of parmesan cheese and ¾ cup of mozzarella cheese for the top of the cupcakes. Begin layering your lasagna cupcakes by pressing a wonton wrapper into the bottom of each muffin tin. Sprinkle some parmesan, mozzarella and ricotta cheese in each tin. Add some meat and pasta sauce.
Continue layering each tin: wonton, parmesan, mozzarella, ricotta, and pasta sauce. Top with reserved parmesan and mozzarella cheeses.
Bake the trays, one at a time, for 18 to 20 minutes or until the edges are golden brown. Remove from oven and let cool for about 5 minutes. To remove the lasagna cupcakes, use a knife to loosen the edges until each cupcake pops out.
Garnish the top with basil and serve.
Although I have yet to master the art of making traditional lasagna, I can make this modern and simpler version that tastes just as good and doesn't end up on my shirt.
Cristina Lule can be reached at [email protected]