Softball splits its two games on second day of Fresno State Kickoff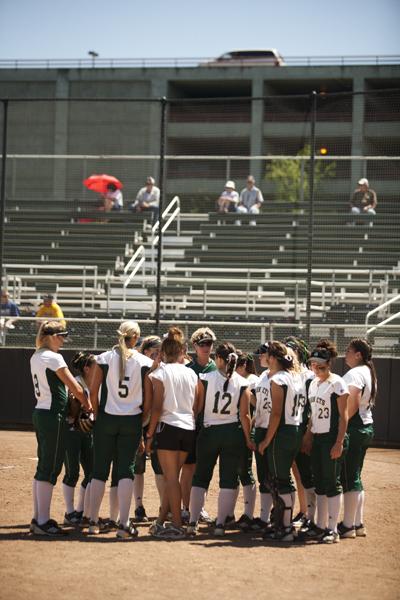 Sacramento State softball split Saturday's games of the Fresno State Kickoff, defeating Southern Mississippi, 3-2 and losing the second against UC Riverside, 2-1. 
The Hornet's record has now dropped to 2-1 on the season. 
Freshman catcher Kortney Solis was silent for most of the first game against Southern Mississippi until she hit a home run to start the seventh inning rally that gave the Hornets the win. Solis ended up 1-3 with her first home run and RBI of the season. 
"We just could not figure out the opponent pitcher until the later part of the game," said Sac State head coach Kathy Strahan. "It was nice to see Solis start the offense like she did because she is such a young player on our team."
Senior center fielder Kelli Frye kept the rally alive in the seventh inning when she hit a single to send pinch runner sophomore Nicole Clark across home plate. Frye went 1-2 with a sacrifice bunt and run scored. 
Senior third baseman Emily McCormick brought in Frye with a single to score her second RBI and give the Hornets the lead and eventually the win.
Sac State junior pitcher Taylor Stroud was off to a shaky start, but seemed to hold the bats for the Eagles throughout the rest of the game. Stroud struck out four Eagle batters, allowing three hits and two earned runs. 
Strahan knew that Stroud would find her groove after the second inning, because she said Stroud has that next gear that sophomore pitchers Kaitlyn Yerby and Caitlin Brooks do not really have just yet.
"It seemed she (Stroud) was shell shocked in the second inning, but after that inning she got her groove by finding her stride," Strahan said. "She (Stroud) was able to keep the hitters off balance with her mixing up the pitches like her rise ball and screw ball." 
In the second, Sac State faced UC Riverside Highlanders, but the Hornet offense scored the only run coming in the second inning when sophomore right fielder Paige Martin hit a single, driving in senior first baseman Molly Smith.
Sac State had another chance to drive in the tying run with the runners at first and third base, but junior shortstop Yesenia Alcala was caught stealing home. 
Kaitlyn Yerby pitched a good game, striking out three Highlander batters while allowing only two runs in the third inning and a total of eight hits.  
Strahan said she does not know for sure if Yerby has the stamina that Brooks and Stroud have to complete a game. 
"I was really impressed with the way Yerby pitched the game. Riverside was just hitting the ball and playing better than we were during that game," Strahan said. 
After today, Sac State falls to (2-1) and will play two games on Sunday to end the Fresno State Kickoff, UC Davis at 1:30 p.m. and Fresno State at 3:45 p.m. 
Clifton can be reached on Twitter at @JonesSHsports