Volleyball falls in four sets to North Dakota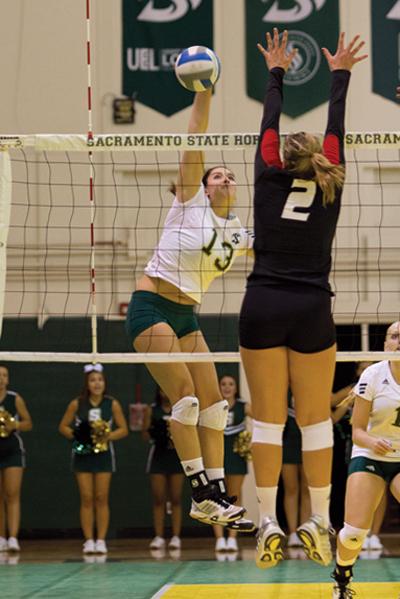 The Sacramento State women's volleyball team fell short on Saturday's game against North Dakota.
After losing a close first set of 22-25, the Hornets came back strong in a second set with a score of 25-11.
"They made it easy because they weren't passing well," said Hornet outside hitter Janelle Currey. "We applied pressure on that game, we served tough, we played good defense and they didn't accept the challenge."
The two following sets were not played at the same pace.
Despite junior Kayla Beal's 27 kills and senior Sydney Kordic's 41 digs, the score for both sets ended at 25-16 with North Dakota coming out on top.
This puts the Hornets at a 5-11 record. They are now two games behind in gaining entry to the Big Sky Tournament with four games left of the regular season.
"That is the least of my concern," said Sac State head coach Ruben Volta. "My concern is to play better and we did not play well today. The playoff picture will happen when we play well enough to win."
These next four games are vital in securing the Hornets a spot in the postseason playoffs. However, the players are hopeful in working on improving in order to make that happen.
"It kind of depends on how other teams are doing right now," Beal said. "We're going to try our best to win our last four matches here and see what happens."
The Hornets will head to Idaho State for their next match on Friday to face the Bengals.
Maikalina Madali can be reached at [email protected]