'Robin Hood' trades tights for leather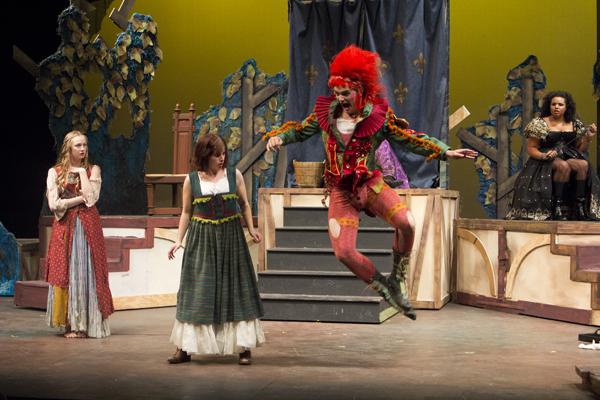 The classic tale of Robin Hood is being retold by Sacramento State students with a comedic twist.
Robin Hood is the last production of the semester and one that the whole family can enjoy starting Wednesday, Nov. 28 at 8 p.m.
"When it came to me choosing a show for this year I thought I need a playwright that is going to have all this variety in there that's funny but is also very touching at times," Sacramento State voice and acting professor Michelle Felten said. "It is not just the straightforward Robin Hood."
This rendition of Robin Hood is not the typical man-in-green-tights performance. It is a comedy with a modern twist, but also preserves some of the traditional pieces of Robin Hood such as his bow and arrow, Maid Marian's Renaissance attire and the setting of England.
Some of the modern additions to the play are found in the costumes and the character makeups said Jessica Windhaus, a senior theater major and Maid Marian in the play. Robin Hood ditches the green tights and wears a green leather jacket, along with the Merry Men who wear leather jackets as well. For those who do not know the story of Robin Hood, the Merry Men are Robin Hood's followers.
"This is a mythological Neverland where Peter Pan is represented by Robin Hood and Captain Hook is represented by the Sheriff of Nottingham and they're arch enemies, but yet this is a more playful version," Felten said. "Robin's men are going more into the forward world and the royalty is stuck in the past."
The romance between Robin Hood and Maid Marian is another traditional development of the play that unfolds in this version. She is part of the wealthy community and he looks down upon the rich.
He kidnaps her and eventually she starts to see the world the way he does – there is unfairness that circulates between the rich and the poor and she wants to change it. Robin Hood discovers that she has a compassionate side and they end up falling in love with each other, said Windhaus.
In one scene, Robin Hood tosses his sword to the side and another character attempts to drag it away, but the sword is far too heavy for him to lift. There are also two jesters in the show – one cannot speak a stitch of English so what comes out of his mouth is complete nonsense and the other jester executes a lot of physical comedy.
There is also a friar, but he is not very religious and is actually very dirty with his humor, Windhaus said.
"You have a really wacky group of royalty," Felten said. "If you're not laughing at the adult (humor) of the show, which is also definitely in this rendition, you are laughing at the complete silliness that some of these characters and the great characteristics that (Sac State students) are bringing to life right now."
Humor and romance are not all the show has to offer. Action can be found in the play as well. There are fight scenes filled with jumping, punching Windhaus said. At one point, 15 characters take part in a fight scene.
Antonio Perez, a junior theater major and one of the Merry Men and Arthur a Bland in the play, said the first fight scene is meant to be silly.
Windhaus said in previous versions of Robin Hood, Maid Marian is presented as a damsel in distress, but this particular production shows her as a strong and brave woman.
Felten said there are also some underlying political messages relating to today's society such as equality, preserving the forests and that being wealthy does not always mean you are happy.
Windhaus agreed.
"It does definitely have its political messages but it's presented so humorously," Windhaus said. "It's about distributing wealth equally and more about looking out for the people."
Jacquelin Everhart can be reached at [email protected]