Ballroom Social unites communities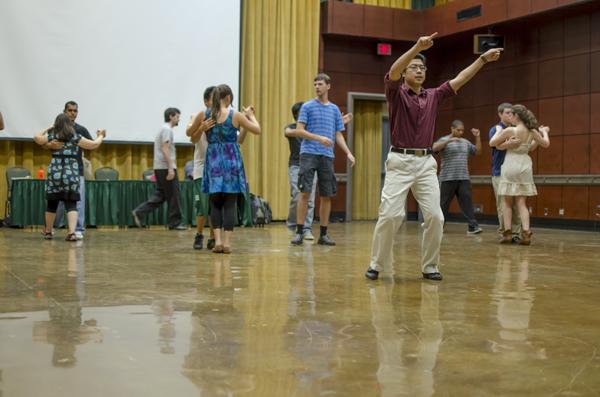 Every Thursday from 7-10:45 p.m. in the Redwood Room of the University Union at Sacramento State, the sounds of lively music and feet shuffling across the floor can be heard; these are the sounds of the Ballroom Social dancers.
Whether you are Sac State student, a faculty member or just a resident in the community, Ballroom Social is a sports club that offers free dance lessons taught by volunteer dance instructors since 2009.
"Our group is open to all majors and the community," said Laura Ward, a junior liberal studies major and the president of Ballroom Social.
The first hour is spent learning a new dance style. After the lesson is taught, the rest of the time is spent dancing to different types of music so participants can practice other forms of dancing. Some of the dances include the east coast swing, the west coast swing, the tango and the hustle.
"It's good exercise," said the club's treasurer Erica Ryan, a graduate liberal studies major.
Exercise is not the only benefit of attending Ballroom Social events. After all of the increases in tuition, it might be a little refreshing to join a club that does not require your cash or credit card.
It is absolutely free to join Ballroom Social; all it requires is a signed waiver, a copy of your photo I.D. and proof of health insurance if you are not a Sac State student. People pay heaps of money on dance lessons for their wedding, but if you attend Ballroom Social events you can save some cash and put it toward the honeymoon.
Ward said couples from the community sometimes attend. She once had a man show up for lessons because he and his wife were getting married and she wanted him to learn how to dance.
Meeting people is another plus to joining Ballroom Social. The club focuses on dancing with apartner, making it easier to get to know the other dancers and make friends.
"We go through partners as we go through the different dances," said vice president Don Johnson, a senior psychology major.
Johnson recalls his best memory of being a part of Ballroom Social does not even include dancing, but rather building friendships with the people in the club. One of the members had some photo equipment so the group got together and just hung out as friends.
"We spent the whole time taking pictures," said Johnson.
If you are considering coming out for a dance lesson, all you need are comfortable shoes that have some grip and comfy clothes you can dance in.
"Who doesn't love dancing," Johnson said.
Jacquelin Everhart can be reached at [email protected]