Suicide prevention walk spreads awareness at Sac State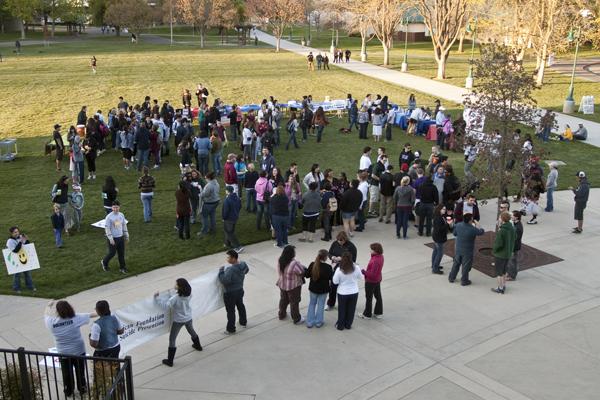 In an effort to support suicide prevention, The Active Minds at Sacramento State Peer Health Education Program teamed up with the American Foundation for Suicide Prevention to host the first "Out of the Darkness" campus walk Thursday at Sacramento State.
A total of 193 walkers, 65 volunteers and four speakers participated; among them were sororities, fraternities and departments who raised a total of $1,765. The money goes toward the American Foundation for Suicide Prevention.
The American Foundation for Suicide Prevention is a national nonprofit organization dedicated to preventing and understanding suicide through education and advocacy research. It reaches out to people impacted by suicide and those with mental disorders. The organization was established by experts and survivors of suicide and business and community leaders.
Suicide is the second cause of death among college and high school students according to the group's website. Out of those, 95 percent are suffering from mental illness, usually depression. If depressed; substance abuse, anxiety, impulsivity, rage, hopelessness and desperation increase the risk, according to the website.
Mike Gonzales was one of the four speakers who shared his personal experience about his daughter, Suzanne, who committed suicide in March 2003. Since then, he has been advocating and working toward the passage of the Suzanne Gonzales Suicide Prevention Act of 2011, or H.R. 1183.
"This bill is a narrow and specific law that says it is a crime to go on the Internet and tell someone who seems to be thinking of suicide, 'You should go through with it. Here is how to do it and where to get the materials," Gonzales said.
Gonzales said his daughter became depressed while away at college and instead of turning to family or professionals for help, she turned to online suicide groups which helped her end her life, then they would celebrate it.
He spends his time making appearances to tell his daughter's story and persuade audiences the bill is necessary; speaking about how it eases his pain.
At the end of the walk, prizes were given out to whoever bought tickets. The prizes included four ticket vouchers for Sacramento River Cats' games, a $25 Safeway gift card, two $10 Starbucks gift cards and a $20 Round Table Pizza gift certificate.
"Out of the Darkness" wristbands and a reserved area to cheer on walkers were given to any team that raised $200. Teams that raised $100 received an event T-shirt.
Sac State's Peer Health Educator group raised $155, followed by The Bachelor of Social Work Association, which raised $130.
Kalyn Coppedge, health educator for Student Health Services at Sac State, said their health services' goal is $2,500. So far, it has raised $1,765, but the walk donations are accepted until June 30. She helped with the planning, organization of volunteers and promotion to help make the event a success.
"Our Peer Health Education program, Active Minds, is co-facilitating the walk with the American Foundation for Suicide Prevention. We worked with them to do a few events here on campus about depression and bipolar awareness and now we are focusing on the issue of suicide," Coppedge said.
Navarra Carr, sophomore philosophy major and captain of the Chi Delta team, said they raised about $150.
One of the things motivating her is she has been affected by suicide in her personal life. Carr said two of her friends have attempted to commit suicide.
"A couple weeks ago one of my friends called me up because he was trying to jump in front of a car," Carr said. "I sat on the phone with him for about an hour. He cried and I could hear cars in the background. Unfortunately, he lives six hours away. So I wasn't able to do much more then tell him to go see a counselor and tell him that there are people who are more qualified to talk to him than I am. He went to a counselor and really took it upon himself to seek help."
President of BioCorps Ravneet Kang, senior biomedical science major said the goal is to host more campus walks annually to unite the community and make Sac State a suicide-safe campus.
Kang said the $450 raised goes toward American Foundation for Suicide Prevention, for suicide research, awareness and prevention initiatives.
"Suicide awareness is something that truly needs to be talked about among our colleagues as suicide is becoming more prevalent in our community and we need to help those in need," Kang said. "I want to thank all the various Sac State student organizations, sororities, fraternities, departments and our members as well as the Peer Health Education Program for promoting and volunteering for this great cause and who raised funds and participated in the walk. Together we can make a difference."
Mari Del Angel can be reached a [email protected].