Rugby player gets invited to play for chance at Olympics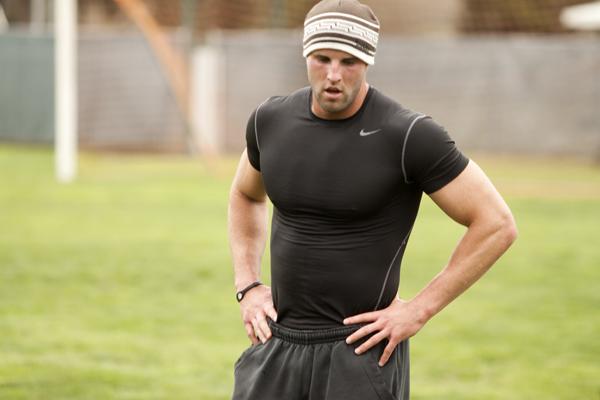 Sacramento State is not known as an athletic powerhouse or a breeding ground for professional athletes, but every now and then a Hornet standout gets their opportunity to continue playing in the big leagues.
Senior business major Jeff Gillingham is a former San Joaquin Delta College football player who has made the transition onto the rugby field – playing the lock position for the Hornets' rugby club. He has been playing rugby for only three years but got the attention of United States Player Identification coach Anipateiu Katoa, while competing for the Hawaii Islanders Rugby Football Club in an international sevens tournament in Hawaii last December.
"Our head coach sent me out there to look at some guys on the Samoa team, but two guys stood out the most to me and Jeff was one of them," Katoa said.
Katoa said Gillingham's size and athleticism is what stood out and has since invited Gillingham to Aspen, Colo., this summer to train and compete for a position on the 12-man U.S. Rugby Sevens' roster.
The 2016 Olympics will feature rugby again for the first time since the United States won gold in 1924. The 2016 U.S. Olympic team will include players from the Sevens team.
Gillingham said if he makes the roster, he would likely play the prop position.
"The potential is there, we just want to bring him in and give him the right coaching to continue to get better," Katoa said. "I think he has a very good chance of turning some heads, especially in the international format."
Rugby Sevens differs from traditional rugby because it features two seven-minute halves and only seven players on each team – as opposed to 40-minute halves and 15 players.
Sac State men's rugby club head coach Mason Gunn said Sevens requires a different kind of conditioning than 15 because it requires more speed on the field. Traditional rugby rules still apply.
The U.S. Sevens team competes yearly in the International Rugby Board Sevens World Series held in South Africa, New Zealand, Scotland and other locations throughout the world. The World Series begins in late November and concludes in May.
Since Sevens is being reintroduced to the Olympics, the U.S. team recently started contracting its players – giving them the opportunity to train the entire offseason.
Gillingham said he was missing something in life when first tried rugby and fell in love with it. He won the Rookie of the Year award and said from there, things have taken off for him in the sport.
"I'm excited, motivated. It hit me as a realization that this is something I could take to the next level and possibly make a short career out of," Gillingham said. "That motivation has pushed my training to the next level."
Gillingham will also likely get an opportunity to play at Notre Dame's football stadium during halftime of their Blue-Gold game on April 21. The Sevens' halftime game is intended to help bring awareness that U.S. will be competing in rugby in the 2016 Olympics.
Gillingham credits his friend and teammate, senior hooker Donny Deaile, for getting him into rugby. Deaile said he knew Gillingham was an athlete who played football and simply invited him to try a new sport.
"I take pride in Jeff's accomplishments; he's one of my best friends. It makes me proud, happy that a friend of mine is succeeding in that way," Deaile said. "How he approaches the game and represents the club, all his success is good for him and good for the club too."
Gillingham said he also has the full support of his family and his parents are excited about the opportunities rugby has brought him.
"My dad didn't know what rugby was until I started playing, but now it has become his number one sport. He's been really supportive, providing for me financially and helping get the things I need to be successful," Gillingham said. "My mom is excited that rugby is panning out well for me too, she just wants to make sure I stay on top of school."
Gunn said Gillingham still has a ways to go as far as learning the game, but his physical attributes outweigh his knowledge of the game – he pointed out the 2016 Olympics are four years away though, so Gillingham still has those years to get better.
Gillingham plans to help men's rugby club beat Santa Clara University on April 7 at Santa Clara. The winner will advance to the National Collegiate Sweet 16 Rugby Playoffs, something the Hornets' club has never done before.
"I have a lot of faith in myself, I know I'm a good athlete and I'm finally wrapping my mind around rugby and getting more comfortable out there," Gillingham said. "Now that I'm getting more comfortable on the field, it's becoming more clear to me what I can do out there and how I can help the team."
JJ Williams can be reached at [email protected]