Professors' work on display at U-Nite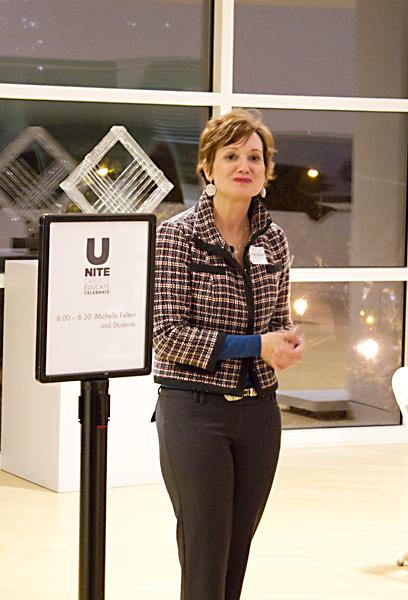 Nigel Poor
Nigel Poor, a nine-year photography professor at Sacramento State, highlighted some of her work to promote a learning environment beyond campus.
"I wanted attendees to see that Sac State has a real sense of community and that education happens outside of the classroom," Poor said.
Poor's main piece titled "Remainders: God, sex and animals talking" was her session's focal point. Those three topics are considered the reasons of why a book is banned.
The piece was a project she began in 2008 and was inspired by an exhibition with a theme on banned books.
Poor took books banned at one point with women's names in the title, washed and dried each one and watched it fall apart.
"My idea was to use books considered dirty," Poor said. "To make the piece, I used a process that was not only about cleaning, but that was once considered women's work."
Poor used the pieces left behind from the washing and drying process as a symbol of the remainders of the stories told within the books.
Poor's work is displayed in a number of museums located in Washington D.C., San Francisco, San Diego and North Carolina.
Poor was invited to participate in U-Nite by professor Elaine Gale and was ecstatic to take part in the event.
"I thought professor Gale did something extraordinary by making this happen," Poor said.
Michelle Felten
Acting professor Michelle Felten took advantage of U-Nite to showcase her students' talent.
"It was a celebration of the arts at Sac State," Felten said. "So it was a great opportunity for me to show what our students could do."
She asked three pairs of her students to present scenes they performed for the Kennedy Center American College Theatre Festival in Portland, Ore., in February.
"The students that represented us that night was a good example of the quality acting at Sac State," Felten said. "I think they performed even better than they did at the competition because they could relax a bit."
This is Felten's sixth year as a full-time faculty at Sac State. She has a history in theater which has contributed to her passion for teaching.
Felten has been involved in the theater field for 32 years. She received a Master's degree in fine arts from the American Conservatory Theatre in San Francisco, a Bachelor's of Arts degree in drama from UC Irvine and an Associate of Arts degree in theatre from San Joaquin Delta College.
Felten lived in San Francisco, Los Angeles and New York, performing in productions and shows. She now enjoys sharing her expertise and experience with her students. 
"I'm fascinated by how people think, behave and react under different circumstances and from different backgrounds," Felten said. "It's really wonderful to be teaching something that I love. It's a reflection of human nature."
Maikalina Madali can be reached at [email protected].