Students get hands-on learning of human anatomy with use of donated bodies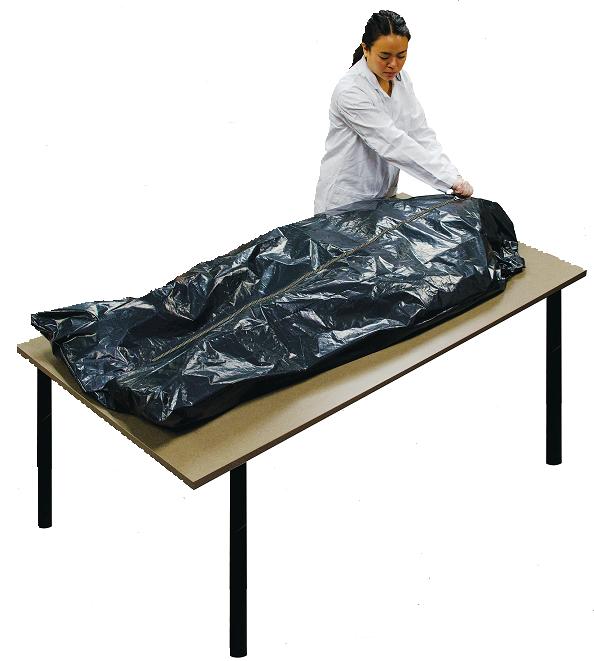 Instead of sticking strictly to textbooks and lectures, Sacramento State's health science students have tangible learning experiences working with real bodies in the Human Anatomy Learning Laboratory.
The laboratory, located in Humboldt Hall, has the capacity and is usually occupied by four donated bodies at a time. Three courses at Sac State incorporate use of the lab: Neuroanatomy, Advanced Anatomy and Human Anatomy for Physical Therapists – a course required for completion of the physical therapy doctorate program, which was established last year.
Biology professor Winston Lancaster is the primary anatomist in charge of the human anatomy facility. He assumed responsibility for the lab after the reassignment of professor Rose Leigh Vines, who began it around 1984. He said the lab provides a rare educational experience to Sac State's undergrads.
"My impression is that not many other schools in the California State University system have access to a lab like this," Lancaster said. "When I tell people what I do here, people generally react with surprise. Most people think, 'It's just a CSU,' but we have access to resources that are usually reserved for medical schools ."
The opportunity is made possible through the UC Davis' Body Donation Program, which was formed in 1968 to assist medical education institutions in the region. The program distributes donated bodies to the university based on its status as a certified repository, which is required to ensure proper treatment of the bodies and can be revoked at any time.
UC Davis' Body Donation Program operates on unsolicited donations from volunteers in Northern California, according to its website. The program's website notes it has received 3,000 donated bodies thus far, and there are 4,000 living people registered as donors.
"All of the bodies are provided based on voluntary donations through UC Davis; no unidentified bodies are used in our labs," Lancaster said. "Also, all of the bodies go through a screening process that tests for specific diseases, and any bodies that test positive are not used."
UC Davis' program maintains privacy of all donors, which means no names or photos can be released. Because of this, students must place personal belongings, especially cell phones with cameras, into supplied lockers in Humboldt Hall.
"It's hard for some – cellphones are like a lifeline to most students," Lancaster said. "However, this is not usually a problem with the students taking these courses, as many of them are very serious about their studies. Usually, they are really excited about it, and respectful once in the lab."
Lancaster said students do not perform dissections, as neither the time, space nor funding is available for it. He said, however, occasionally he will bring in the hardest-working students to perform the pre-dissections that are presented in the lab.
Most of the time, students are given lab objectives which could involve identifying certain bones or muscles in isolated parts of the body. Students enrolled in one of the classes with access to the lab can come to supervised open lab periods to finish objectives, or further their studies.
"Working with these bodies allows students to better understand the individual variations of anatomy," Lancaster said. "We're just as different under the skin as we are outside of it, which is something that students are always surprised by. It takes looking at more than one body to figure that out."
Jeff Changaris, a graduate student who works with Lancaster, said he was introduced to working with donated bodies in 2006, and has performed close to 500 dissections since then.
"I can honestly say the experience has changed my life," Changaris said. "We all have this image of what we think the inside of the body would look like, but the body is definitely more than the sum of its parts. Everything within the body is connected, even if it's just barely."
Changaris now manages the donated bodies program at American River College, which has a smaller scale anatomy lab than Sac State's. He gives dissection demonstrations at the college primarily to the school's nursing students.
"When students are given their first exposure, you just don't know how any individual is going to handle that information until it happens," Changaris said. "When I do demonstrations, I let people stand in the back and inch slowly forward."
Rebekah Dobish, senior kinesiology major, said she was both nervous and excited upon entering the lab for the first time, but has learned a great deal from the exposure and has since returned to help Lancaster with dissections.
"You hear the stories about the smell of formaldehyde and it being disgusting, but professor Lancaster makes it a very comfortable and professional environment so that apprehension goes away quickly," Dobish said. "Overall, it's just a great experience for biology and kinesiology majors alike."
Lancaster said with an estimated 5,000 named parts of the human body, studying anatomy can be difficult. On top of that, it requires first-hand experience – like what students get in the anatomy lab – to achieve a comprehensive understanding and appreciation of the human body.
"There are many subtle things you can't get from a textbook, but you deal with daily as a practicing professional," Lancaster said. "It takes actual seeing, touching and moving things aside to truly understand the fabric of anatomy."
Brett Johnson can be reached at [email protected].