Sacramento region's economy forecast looks optimistic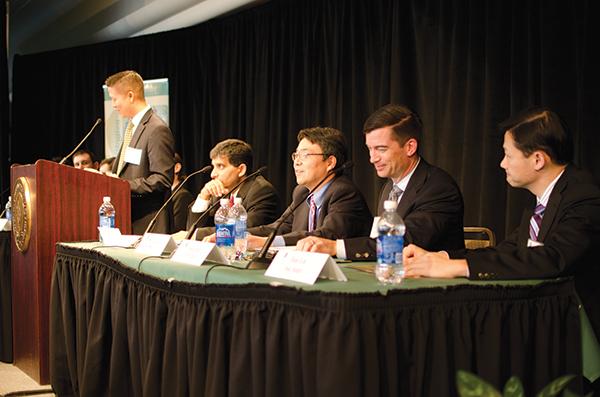 The seventh issue of the biannual Sacramento Business Review was released in front of a crowd of nearly 400 at Sacramento State's Alumni Center on Jan. 25 to discuss the Sacramento region's 2012 economic forecast. The forecast looked optimistic as the report showed the region's economy inching its way out of rock bottom.
The review is put together by Sac State's College of Business Administration and the Chartered Financial Analyst Society of Sacramento to project the regional economy of the near future.
Dean of the College of Business Administration Sanjay Varshney said the latest Financial Conditions Index looks promising.
"The new index is telling us the region is stabilizing, and a very, very slow recovery is under way," Varshney said.
One of the biggest expected improvements in the local economy this year will be small businesses, where small and medium enterprises "experienced higher growth of 22 percent and 51 percent in number of establishments/employees and payroll respectively."
"Our Small Business Confidence Index also shows signs of optimism and reveals that, clearly, the small businesses in the region are feeling pretty good about access to bank credit," Varshney said.
Although the report had many good signs in the small business market as well as many others, Varshney said he still has reasons to be cautious.
"It's fairly fragile at this point," he said.
He also mentioned how a large portion of the region's economy relies on how well the state government is doing budget-wise, as well as the residential real estate sector which is currently facing a high number of foreclosure rates.
During the symposium, guest speaker Axel Merk, president of Merk Funds, presented the findings for each sector and what impact Europe may have on national and international economies between the United States, Asia and Europe.
"This is the biggest public service the College of Business Administration provides to the region," Varshney said. "I am so delighted that we are now producing the seventh edition."
Russell Preston can be reached at [email protected].