Freshman point guard has chance to set Sac State assist record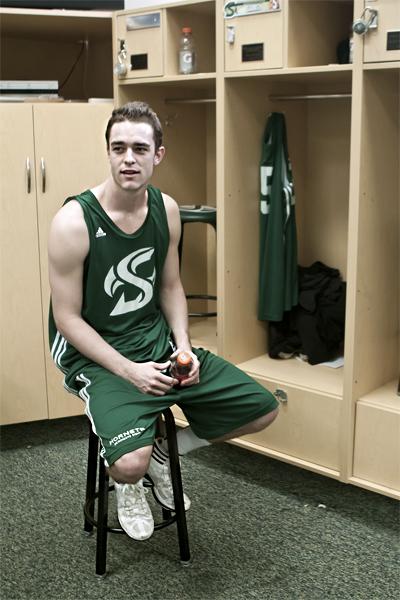 Despite being his high school's all-time leader in points and assists, freshman point guard Dylan Garrity's scholarship to play at Sacramento State was the only Division I offer he received.
Garrity burst onto the scene for the Hornets this year and has started all but one game.
He leads the team and the Big Sky Conference in assists and he is in the top-10 in Div. I basketball in assists per game with 6.8.
Garrity has already broken the Hornets' single-game assist record this season with 16 against Montana State University on Feb. 11 and his assists per game average is on pace to challenge former Hornet Chris Farr for the best single-season assist average at 6.9.
But Garrity's success did not come out of nowhere.
A 2011 graduate of Edison High School in Huntington Beach, Garrity played all four years of basketball at the varsity level and accumulated a long list of accolades.
Garrity was a two-time all-state Most Valuable Player, two-time Sunset League MVP, three-time first team all-section, three-time first team all-league, three-time all-county and the captain of his team for three years.
But the most notable accolade for Garrity was being the first player ever in his high school's 42-year basketball history to have their jersey retired, he said.
"Having my number retired was seriously the greatest award/honor that I've ever gotten in my whole life," Garrity said. "I couldn't have asked for a better ending to my senior year. When my coach announced it at our banquet, I almost burst into tears. All I could do was bury my face in my hands and give the biggest hug. I just felt like all my hard work the last four years paid off perfectly in the end."
Garrity's success did not go unnoticed as many Div. I schools contacted him like Boston College and the University of Nevada, Las Vegas, but he said nobody offered him a scholarship to play.
"It was frustrating," Garrity said. "I felt like I was good enough for all those schools, but they just kept calling me to check on me because I hadn't signed yet. I felt like they were just holding me in their back pocket as a 'just-in-case.'"
But that was not the case when the Hornets' head coach Brian Katz attended one of Garrity's high school games to see him play.
Katz said he knew he wanted him before the first half even ended.
"Recruiting is not an absolute science – it's real difficult," Katz said. "A lot of coaches make mistakes, but on this one I was completely right, which is not always the case. I was just so impressed with his composure, his skill set and his ability to compete in the heat of battle and to me that's really good."
In 26 games this season, Garrity is averaging 33.7 minutes, 7.8 points, 6.6 assists and 2.5 rebounds per game. His 81 percent free throw percentage is second on the team, but his 40 percent field goal percentage is eighth on the team and last among players with double-digit starts.
But Garrity has started to find his stroke as of late and has scored double-digit points in seven of his last 10 games.
He has also shot 48.5 percent from the field during that span, which is 8.5 points higher than his average.
Garrity's rise to the top of the boards in assists is due to his love of getting his team involved first and senior center Josh McCarver said getting Garrity to take a shot instead of passing is hard to do.
"I've never seen a guy who wants to get his teammates involved in the game more than Dylan," McCarver said. "(Katz) had to sit him down in front of the team and tell him that we need him to take more shots – that's how badly he loves distributing the ball to everyone else. I can't wait to see how much better he gets through the years. He has a great natural feel for the game and learns concepts quickly."
Junior shooting guard Jordan Estrada said Garrity is who the team looks for on the floor when they get in pressure situations.
"(Garrity) is a huge part of this team," Estrada said. "The kid is a great guard with tremendous talent and he is a really good passer and ball handler. He's done a nice job of handling the other teams' pressure and if we are having trouble getting the ball up the court, we just give it to him and he will find a way to get us going."
Garrity's presence and knack for spreading the ball has made everyone around him better and his ability to find the open man has even brought the team's field goal percentage up to 44.7 percent from last year's 40.1 percent.
Junior forward Joe Eberhard said getting open for shots is easy when playing with Garrity.
"He's the engine that makes us go," Eberhard said. "He has the ball in his hands more than anyone and creates shots for all of us. The best way to describe it would be easy. I just have to get open and the ball is right there. He finds you every time."
With two games remaining, Garrity's freshman season is almost over, but he said he is looking forward to next year. He said he thinks next year's team will be a force.
"I'm super excited for next year," Garrity said. "Everyone is going to be a senior and I will have a year of playing under my belt. I think we are going to surprise a lot of people next year."
Josh Stanley can be reached at [email protected]