The String Project develops musical skills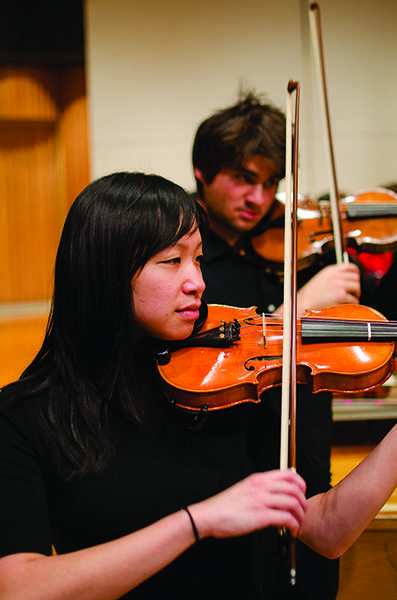 When budget cuts happen in the school system, some of the first programs that always seem to go are the music ones.
Programs like the Sacramento State String Project, though, have no fear. The String Project provides children, ages 7 to 17 with the opportunity to improve musical talents through the instruction of 15 Sac State School of Music graduate and undergraduate students. It is also supervised by Master teacher Judy Weigert Bossuat and Assistant Master teacher Timothy Stanley, who guide the Sac State music students to be the best teachers possible.
This program acts as a supplement to students who already participate in string music programs at their schools, and as a substitute program for students who go to schools lacking music programs and would not otherwise have the opportunity.
"For many families this is their (child's) first musical experience," Bossuat said. "Years down the line, this positive experience will help these kids support their own children in musical endeavors," Bossuat said.
As beneficial as this program is to the children, it is also beneficial to the Sac State music students because of the hands-on experience they gain from working with them. According to the String Project's page on csus.edu, 67 percent of children are first exposed to music instruction in school, and it is important college students persevere in the study of teaching music so such teaching positions continue to be filled.
Since 2001, Sac State's School of Music students have taken on the String Project, holding classes every week for students in preparation for a show at the end of each fall semester.
"We have been working hard to make this the best we can," said 17-year-old violist Emerson Havey.
Beginning students all start in the same class and, as they advance, are moved up to a higher level in which they will eventually get to perform for an audience with a group of other advanced students.
"We often have young children performing as well as the older children," Bossuat said. "It basically depends on their commitment to regular practice at home in between classes."
Audience members can expect to hear everything from simple folk songs to more advanced orchestral pieces performed by the students with instruments such as the violin, viola, cello and string bass. Pieces performed are "Bright Star" by Bruce Chase, "Balloon Man" by Sue Roberts and orchestrated by Thom Sharp and "Antique Echoes" by Deborah Baker, Monday.
This year's show will be held on Monday at 7 p.m. in Capistrano's Music Recital Hall. A reception will be held for all to enjoy after the event. It is free and open to all ages.
"People should come because we are good at playing music," said 10-year-old cellist Mackenzie Perkins.
The String Project concert is Monday at 7 p.m. in the concert recital hall in Capistrano Hall.
Janice Daniels can be reached at [email protected]