Volleyball season, careers, come to end at Big Sky tournament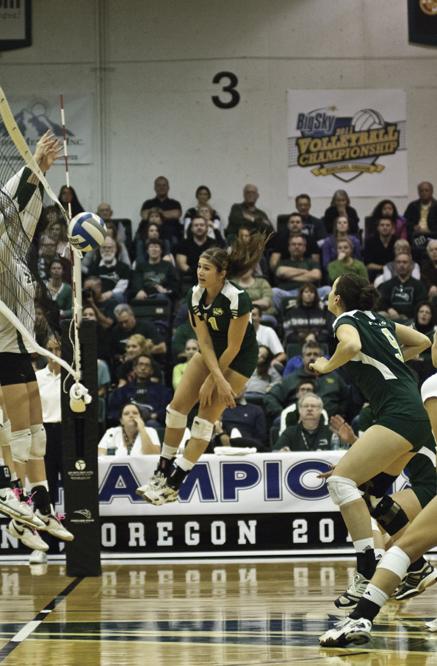 The Sacramento State volleyball team's season came to an end Friday night in Portland when it lost to the host Portland State Vikings 3-1 in the semifinals of the Big Sky Conference tournament.
The Hornets took game one 25-21 but lost the next three 25-22, 25-19, 25-19.
"We started off well," said head coach Ruben Volta. "(Portland State) started playing really well. If you're not executing then you're in trouble."
The season's final match took a toll on the team, especially on its seniors.
"I'm kind of speechless on the whole season coming to an end," said senior defensive specialist Breanne Menees. "It feels terrible."
Senior middle blocker Kelsey Elston was one of the Hornets' more consistent players on Saturday. Elston notched 11 kills and six digs while only committing two errors.
Elston focused on the big picture rather than the disappointing match against Portland State.
"Right now I'm not really thinking about the volleyball. I'm just thinking about how I'm going to miss everyone on the team," Elston said.
Volta said the locker room was filled with emotions after the season-ending loss.
"It's a little emotional for (the seniors)," Volta said. "We had a great season, and we had a fun season. This is the type of team I like to coach. They work hard; they all have good attitudes."
Senior setter Anna Schoener, who has battled injuries throughout her six-year career at Sac State, said her teammates are what she will remember when she looks back on her career.
"This season and my career both have ups and down," Schoener said. "But I think when it comes down to it the team is really the part that you're going to remember," Schoener said.
As for the game, Schoener said a lack of confidence hurt the Hornets.
"I think it was a run or two (by the Vikings) in game two, and then it just kind of spiraled out of control from there," Schoener said.
Elston also blamed the Hornets' defeat on lost confidence.
"I think we got scared and lost our confidence and that's what usually happens when we lose," Elston said. "I think we're fully capable but sometimes we just get rattled and we can't quite get it back."
Elston said errors and the grandiosity of the game may have gotten in some of the players' heads, disrupting the team's confidence.
Portland State's block and Sacramento State's poor passing also altered the Hornets' attack.
"As the match went on, we started passing a little further off the net and I think it makes the game a little more predictable where we're setting and it helps their block and makes it tough to get kills," Volta said.
Portland State blocked 15 Sac State attacks. Sac State blocked only eight Portland State attacks.
Schoener had a tough time disguising the Hornets' attack when she set.
"I think it became pretty easy for (Portland State) towards the end of the game to read what we were going to do," Schoener said.
Portland State's Megan Ellis led all players with 17 kills. The Vikings' hitting percentage was .176. The Hornets' was only .101.
Sac State finished the season 17-15 overall and third place in the Big Sky.
Portland State will play Northern Colorado Saturday night for the Big Sky championship. The winner will advance to the NCAA Division I tournament.
Update: Northern Colorado defeated Portland State in three sets on Saturday to win the Big Sky tournament. Northern Colorado will travel to Hawaii to play No. 10 ranked Hawaii University in the first round of the NCAA tournament on Dec. 1.