Vegan Chef Challenge offers healthy food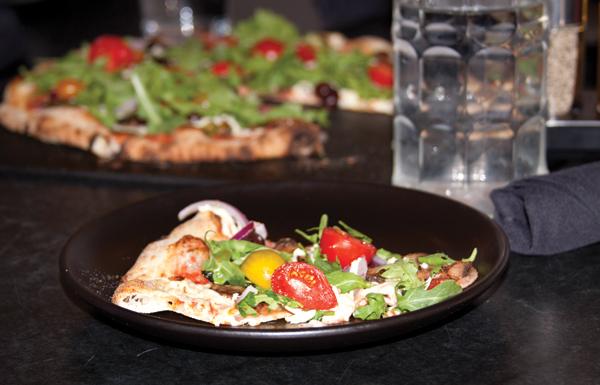 Soon enough, vegan dishes might be as easy to get as a burger and fries.
Ten restaurants, which regularly offer certain vegan dishes, were chosen to participate in a vegan food competition which took place all throughout the month of October. The guidelines for this competition were the dishes offered had to be made without any types of animal products, such as meat, eggs, milk, butter, cheese, honey (because it comes from bees) and even ingredients such as gelatin, because it comes from the collagen inside animal skin and bones.
"Everything is delicious," said Bethany Davis, the vegan competition's primary organizer. "The chefs have really outdone themselves and (have) gone all-out for this event. We sincerely appreciate their creative efforts and enthusiasm."
Each customer who ordered a vegan dish from one of the participating restaurants was asked to complete a survey rating the dish on taste, creativity and presentation. Those who voted were also entered into weekly drawings for prizes and also eligible for the last prize drawing.
Another way customers could win prizes was by filling out a "passport" in which they had to go to every restaurant, try the dishes and collect the restaurant's business cards. Prizes included many things, such as T-shirts, vegan food samples, DVDs, cookbooks and gift cards.
The two main goals of the competition were to promote awareness about vegan food to the public and to encourage more restaurants to offer vegan options on their menus. As a vegan, I know how hard it can be to order food at restaurants – always having to question the ingredients the dishes consists of and how they are prepared – and if more restaurants offered vegan dishes it would make things a lot easier for me, other vegans, and people with animal food allergies.
Along with food allergies, other reasons people endure a vegan lifestyle include health benefits such as lowering the risk for cardiovascular disease, environmental issues and animal welfare. Since many essential nutrients are found in animal products, going about the vegan lifestyle can sometimes be risky if the person does not know what they are doing.
"Making sure (vegans) get enough of certain micronutrients like iron, zinc, vitamin B12 and calcium could be a challenge, but it definitely can be done with a well-planned-out diet," said Family and Consumer Sciences Assistant Professor Mical Kay Shilts.
At Hot Italian, a pizza place in midtown Sacramento, their regularly offered "21 Muti" vegan pizza was a competing dish. It includes grilled seasonal vegetables, basil pesto, tomato sauce, arugula and vegan Daiya-brand cheese for an additional $2.50. Pizza is known for being a cheese-incorporating dish and, upon trying this pizza, I was pleasantly surprised.
It cannot be easy to make pizza taste good when it does not have cheese – real cheese, that is. Although the consistency of the vegan cheese was a bit gooier and saltier than regular melted cheese, it worked because it did not stand alone. The vegetables and arugula added great flavor and texture and, for a moment, made me think I was eating a real-deal veggie cheese pizza.
The only downside of this pizza was that the thin crust, with its minimal "cheese" and vegetables, made it more of an appetizer than a meal. After eating nearly half of the pizza, I was still hungry and wishing I had stopped at Sugar Plum cafe instead to try their, what seem to be, hearty vegan enchiladas.
The organizers of the Vegan Food Competition said they are hoping to make it an annual event in Sacramento. They also plan on helping other communities to plan their own vegan events to continue to spread awareness.
"We are receiving interest and requests from vegans around the country interested in organizing their own Vegan Chef Challenges in their communities," Davis said. "After this event, we will put together a 'how to' guide to help others launch a similar event."
For more information on the vegan food competition and the vegan lifestyle in general visit www.californiaveganrestaurants.com
Dishes included Chef Clay Purcell's Roasted Pumpkin Soup at Tower Bridge Bistro; Chef F.J.'s Korean BBQ Tofu over Seaweed Rice at 58 Degrees; Chef Billy Ngo's Go Green Roll at Kru; Chef Marina Winchester's Jewel Quinoa Salad at Cafe Capricho; Chef Raphael Kendall's Coconut Chai Chocolate Cake at Capitol Garage; Chef Marshall Massa's Southwestern Enchiladas at Sugar Plum; Chef Hernandez Pablo's Paella Vegetariana at Aioli; Chef Lauren Barton's Pumpkin Risotto Timballo at Michelangelo's; Chef Sanjeev Singh's Vegan Thali at Bombay Bar & Grill; and Fabrizio Cercatore's Vegan Pizza at Hot Italian.
Janice Daniels can be reached at [email protected]