Sac State's choirs team up for Veteran's Day concert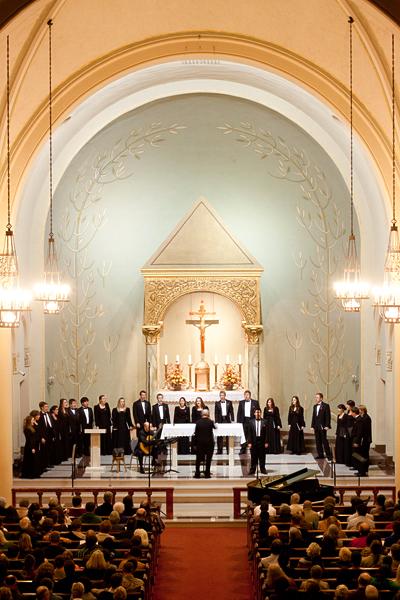 State Hornet Staff
November 9, 2011
Donald Kendrick, director of choral activities, will be conducting a concert at Sacred Heart Church this Saturday, combining the talent of all three Sacramento State choirs in tribute to Veteran's Day.
The concert, titled "Bring Them Peace," will start at 8 p.m. on Saturday and includes the Sac State Chamber Choir, Women's Chorus and the University Chorus with a program of narrations and music.
Kendrick, who normally directs the three choirs, has worked hard all semester to prepare the students for this concert.
"We hope to get about 500 guests for this concert," Kendrick said. "It is an evening of music and narration focused on the power and impact that was on society in general."
Included with singing will be readings from the diaries of soldiers from the Civil War, World War I and II, along with other documents from battle memorabilia.
"I'm very excited about the concert of course," Kendrick said. It's a rare occasion we have all three choirs sing together. Music is a way of enhancing the spoken word, and we have special instruments coming in to make a beautiful accompaniment."
Anthony Taviani, participant in the University and Chamber Choirs, has been working with Kendrick since 2008.
"This concert is more significant than most because it is thematic and speaks to a specific audience, while giving all audiences something they can enjoy," Taviana said. "Don has been giving these concerts for 27 years, the emotional intensity of this program can bring a greater impact than some of the more grab bag concerts."
Kendrick has accomplished many things for the choir department at Sac State, including initiating the Graduate Degree Program in Choral Conducting in 1986.
His Sac State choirs have performed in Europe and Canada, where they appeared on international television at request of the Canadian prime minister.
"It was really inspiring for us all, really uplifting and we were honored to be a part of such an experience," Kendrick said.
In May 2004, Kendrick received the Sac State School of the Arts Outstanding Community Service Award for his work in connecting the community and the university. In May 2007, the Capital Section of the California Educator's Association named Kendrick Outstanding Teacher of the Year.
Kendrick also conducts the Sacramento Choral Society and Orchestra, the only large choir in America with its own orchestra, adding his total up to six choirs.
"It's a very fulfilling lifestyle, and a busy one in that it requires that I'm organized and know where I am at all times," Kendrick said.
James McCormick, president of the Sacramento Choral Society and Orchestra, has worked with Kendrick since 1996.
"The best part of being in a choir besides the music is definitely the feeling of a community, a camaraderie, having a common goal," McCormick said.
Kendrick has been singing all his life, and said it is an important ingredient which "fits you in life in a way that nothing else does."
His students have also been practicing all semester to make this concert memorable.
"The process can be rough, as pieces slowly come together. Sometimes you worry if the group can really rise to the occasion," Taviani said. "But in almost every instance I have seen or been a part of, come concert time, everyone is focused, hard working and especially excited once they can get out of the classrooms where they can feel the music much more vibrantly."
In the next few semesters, graduating classes will leave some vacancies in the choir and Sac State is hoping the concert will help attract new students.
"Hopefully the range and quality of this concert will serve as a huge publicity tool," Taviani said. "I added University Chorus to my schedule without taking it for credit solely because of a piece that they are singing. Since then, I have grown to love most of the pieces from both ensembles."
Kendrick hopes the concert will help share their love of music.
"The product is one that is giving back to the community; it's outward," McCormick said. "It's about what we can do collectively to enhance the cultural life of Sacramento."
After all the rehearsals, concert night always serves as a reminder of the hours that have gone into creating such an ensemble, McCormick said.
Kaitlin Bruce can be reached at [email protected] 
"Bring Them Peace"
What: Choral concert with the Sac State Chamber Choir, the Women's Chorus and the University Chorus. 
When: 8 p.m. Saturday.
Where: Sacred Heart Church in Sacramento, 39th and J streets.