Nash, defense leads Hornets to victory against Idaho State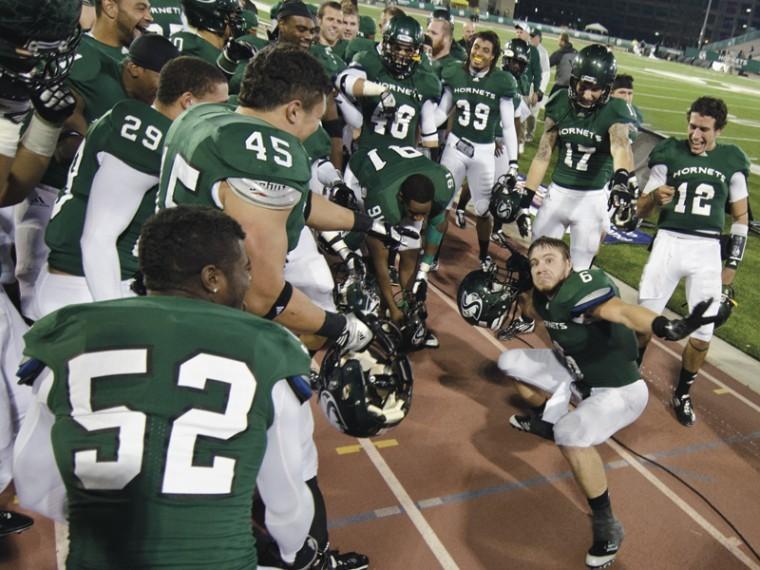 Zack Nash set a Sacramento State record and the Hornets defense shut down Idaho State to win 24-9 tonight at Hornet Stadium.
Nash had five sacks, giving him 29.5 total and moving him to No. 1 on Sac State's all-time sack list. 
"Great night for Zack Nash. Very happy for him," said head coach Marshall Sperbeck.
Sperbeck was quick to praise the entire defense as a whole.
"Sacks are a tribute (sic) to good defensive football," Sperbeck said. "It's not always the individual, it's not always the d-line. Sacks come from good coverage, from good disguise, good pressure."
The defense made up for the offense's inconsistent play, holding the Bengals' offense to three field goals.
Idaho State's offense, which is known for passing on almost every play, played into the hand of Nash and the defense.
"If you're not worried about the run you can just play pass a lot more," Nash said.
Nash was able to focus solely on rushing the passer, allowing him to tie the record at 27.5 sacks during the third quarter and then break it with back-to-back sacks in the fourth.
But Nash said the record wasn't on his mind.
"Coming in, I didn't know how many I needed," Nash said. "In the heat of the moment you're just worried about getting off the field."
Nash only learned he broke the record when he heard it announced over the public address system. 
"It felt great, especially it being fourth down, (we) got off the field." Nash said. "It's always great to get a couple of sacks and especially getting the win."
Sac State's offense was led by freshman quarterback Garrett Safron, who was playing in place of senior quarterback Jeff Fleming. Fleming missed the game with a concussion.
Safron completed seven of 16 passes for 100 yards and one touchdown. Forty of those passing yards came on one play – a long pass to John Hendershott that set up Bryan Hilliard's three-yard touchdown run with 2:34 left in the game.
Safron did most of his damage on the ground, netting 74 yards and a touchdown on 17 rushes.
Idaho State's defense was able to contain Safron's running ability for most of the game by stacking the box with defenders.
But with 3:27 left in the third quarter Safron found a lane and ran for a 34-yard touchdown.
"That's the thing about option football," Sperbeck said. "You can be good five or six times and you miss once and it's a touchdown."
Safron said the defense was fooled by the play-action.
"After the play, I heard that three of the defenders tackled Sam (McCowan) so I'm guessing they, one of the linebackers did not play me," Safron said. "They would drop down the end and bring the linebacker over the top to stop me, and instead they brought all three defenders to Sam."
Safron may also start next week's Causeway Classic against Davis.
Fleming suffered a concussion in the fourth quarter of last week's game at Portland State and he is still suffering from the effects.
"I have a feeling that Jeff may be out," Sperbeck said. "He's still having headaches and stuff so it's kind of day-to-day."
Idaho State wide receiver Rodrick Rumble caught nine balls, bringing his season total to 107, a Big Sky record.
Osagi Odiase, in his first game back from injury, spent some of the game covering Rumble.
"He's a great player" Odiase said. "He's shifty off the line, great speed, great hands, great player. Probably one of the best in the conference that I went up against so far."
The Hornets (4-6 overall) finished 3-5 in the Big Sky. They play their final game on Saturday at home against UC Davis. Kickoff is at 1:05 p.m.
Dante Geoffrey can be reached at asports@statehornet.com. You can follow him on Twitter: @dantegeoffrey.