Pizza and bicycles make a delicious combo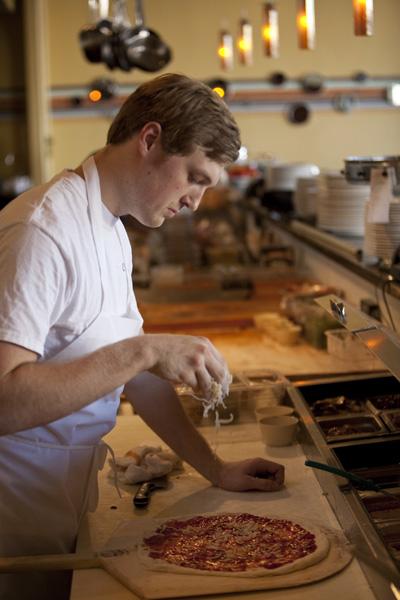 After a long bike ride around Sacramento, most people would not deny a bite of pizza.
Why not stop at OneSpeed for, what many might call, heaven in your mouth? Do not think this restaurant is called OneSpeed for nothing, either. It becomes clear at first sight the managers and employees are bike enthusiasts from the bike pieces that cleverly hang among the light fixtures and walls.
One of the key goals in opening this restaurant was to provide good food while encouraging customers and employees to use bicycles as a source of transportation.
"On any given day, 10 to 12 employees will show up to work on bikes," said owner Rick Mahan.
Along with being an advocate for bicycling, Mahan has been in the restaurant business since he was 16 years old, having cooked for several establishments and owning The Waterboy in Sacramento for the last 14 years. Mahan has had a deep-dish passion for pizza for a long time, and just over two years ago he opened OneSpeed with "Pizza, Bikes, and Love" in mind, which is the restaurant's motto.
The menu includes the familiar margherita and pepperoni pizzas, and quite a few unheard of pizzas, including Rick's pizza, which consists of potatoes, pancetta, onions, olives, goat cheese, fontina and arugula; the four-cheese pizza, which also includes apples and caramelized onions; and the napoletana pizza, which has eggplant, capers, anchovies, chilies, mozzarella, tomato sauce and olives. The smell of dough baking and sauce sizzling is overwhelming, making it nearly impossible to walk out without ordering something mouthwatering to eat.
The crust on the margherita pizza was crisp and buttery, and picking up a slice was quite the task because of the melted mozzarella cheese and sauce that did not want to stay on. Without the basil, this pizza would have been good, but not great. The basil made for a refreshing kick, which added to the temptation and ultimate consumption of half of the pizza in one sitting.
The pizza at this restaurant deserves to be called something greater than "pizza" because, compared to Round Table or Little Caesars, it is a completely different species.
"Pizza is a simple and beautiful thing when it is done properly," Mahan said.
Pizza is not served by the slice at OneSpeed due to the restaurant's commitment to freshness. Those who want pizza here better be hungry or at least have a group of friends willing to devour greatness. Everything is made from scratch, and all the produce and meat used for toppings and sauces come from local gardens and farms in Sacramento.
Certain pizzas and dishes, such as the organic zucchini and cherry tomatoes pizza, are seasonal, and what is on the menu one week may not be on the menu the following week due to local farms' produce availability.
"Sometimes customers ask 'What are you going to have next week?' We don't know; it is always changing," said assistant manager Bobbi Murray.
A lot of thought goes into the making of this food because these pizzas do not have canned or prepackaged ingredients, an indicator of thoughtfulness by staff and chef. The workers always want to ensure the customers get exactly what they want, regardless of whether it is on the menu.
"People come in asking us to make pizzas into calzones and calzones into pizzas," said OneSpeed employee Kameron Klima. "Sometimes it is tough, but we always manage to do it."
Mahan and others did a lot of experimenting to come up with the ever-changing menu, which consists of not only pizza and calzones, but many other dishes including chicken polenta, spaghetti, salads and even a OneSpeed burger, which has sauteed onions and peppers, tomatoes, Sierra Nevada white cheddar, rosemary mayonnaise and a side of fries.
As for those who are not much into the meat-and-cheese-eating scene, there is a special vegan pizza which includes tomato sauce, zucchini, Spain-imported piquillo peppers, red onions, mushrooms and garlic oil. It is not on the menu, but it is available for those who request it.
With food and service this good, customers should not expect to penny-pinch. The pizzas run from $12 to $15, and are about the size of an average medium pizza, but are incredibly good and worth the splurge. Although customers cannot buy pizza by the slice, there should not be much of a problem because one slice of this awesome pizza would not be enough, anyway.
OneSpeed Pizza is located at 4818 Folsom Blvd. It is open 11:30 a.m. to 10 p.m. Tuesday through Saturday and 9 a.m. to 9 p.m. Sundays. For more information, visit onespeedpizza.com.
Janice Daniels can be reached at [email protected]