Cafe Roma offers up an authentic Italian cafe experience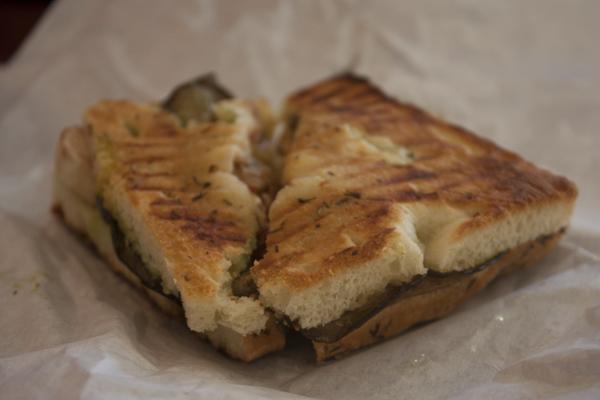 After taking a trip to Italy, owner Abe Saadeh became inspired to open Café Roma.
His trip to Italy revealed settings where people enjoyed their food and favorite dishes of the areas he visited.
"We found that almost everywhere you went you would find a café that not only had great pasta, pizza, panini, desserts and pastries, but that there was almost always a walk-up espresso and gelato bar," Saadeh said.
Saadeh is joined in business by his brother George, who is the main chef, his 19-year-old daughter who works as a barista, and a few others.
Stepping into Café Roma is a bit overwhelming at first. Customers are greeted with a variety of different pastries inside display cases, including scones, cannoli, rum cake, biscotti and almond torte – which is one of the most popular.
There is also a display case full of colorful gelato, the brightness and looming temptation of which made looking away rather difficult.
This place does not feel like the average restaurant or café. Here, customers get a sense of something special. The mixture of aromas, such as the Italian spices in the sauce and the fresh-brewed coffee, is welcoming; it can make people feel as if they are in Italy, even if they have never been there.
Photos of Italian structures and statues hang amongst the pastel-colored walls with marble and mosaic tiles on the floor and around the edges of the arched doors.
The gelatos were artfully displayed: the coconut gelato was sprinkled with crispy flakes of dried coconut, and the chocolate hazelnut looked too sinful to try. Others, like the mocha almond fudge, were dappled with coffee grounds or dotted with fresh fruit. Other flavors include Rum Raisin, Tiramisu, Dark Chocolate and even a dairy-free Lemon Sorbet.
All the gelato is made locally and delivered to the restaurant twice per week to ensure freshness. It costs $2.49 for a junior, $2.99 for a small, $3.79 for a medium and $4.59 for a large. Those who want Aflogatos, espresso served over gelato, will pay an additional 75 cents.
Coffee and espresso drinks are all made with Vaneli's fine roasted coffee beans and La Spaziale espresso machines imported from Italy. Coffee drinks include everything from special Café Roma drip coffee, espresso, café lattes, cappuccinos, Doppios, macchiatos and blended drinks. Not only is this coffee aromatic, but tastefully bold. The Café Au Lait has a smoky flavor – tasting almost like a browned marshmallow – with a cinnamon-sprinkled foam for texture and delight.
"If you have ever visited Italy or if you plan to, what you will find is that Café Roma is just like an authentic Italian street café," Saadeh said.
The roasted veggie sandwich is to die for. The roasted eggplant, feta cheese, romaine lettuce and mushrooms made for a moist and crisp bite with the garlic-herb foccacia bread, while the homemade pesto added authenticity and a bang of bold flavor.
A different entree is served every day at Café Roma. Pasta with meatballs served on Mondays, lasagna on Tuesdays, ravioli on Wednesdays, chicken parmesan on Thursdays and cheese tortellini is served on Fridays; all entrees cost $6.99 each. The sauces used for the entrees and other dishes in the restaurant are all family recipes passed down from Saadeh's great-great-grandfather.
Although certain entrees are only served on particular days of the week, pizza, salads, soups, sandwiches, breakfast burritos, pastries and gelato are served every day of the week. At this restaurant, $10 is enough to make one person (or two) extremely satisfied at the end of the meal.
What is an Italian restaurant without pizza? Here, pizza also seems to be a big hit. Although each slice runs about $5, customers do not seem to mind.
Pizza options include everything from a simple, hand-sliced pepperoni pizza to a Roma combo pizza, which consists of mozzarella cheese, fresh tomatoes, hand-sliced pepperoni, Italian sausage, red onion, mushrooms and olives. Whole pizzas run for about $30, which is not bad for an authentic Italian pizza – which is gold compared to that Domino's cardboard stuff.
"The first time I came in I was concerned about the price (of the pizza), but it ended up being delicious and worth the splurge," said customer Lena Williams, senior office specialist for the Santa Clara Valley Water District's legislative office, as she was on her way out of the restaurant with an armful of to-go orders.
Due to its proximity to the Capitol building, many city and state employees frequent the restaurant. It is also a great place for those out scavenging the downtown area, touring or who just want to grab a quick bite to eat.
Cafe Roma is located at 1013 L St. in downtown Sacramento. It is open 7 a.m. to 5 p.m. Monday through Friday. For more information, visit caferomaonline.com.
Janice Daniels can be reached at [email protected]