Deliciously malodorous food found at The Garlic Shack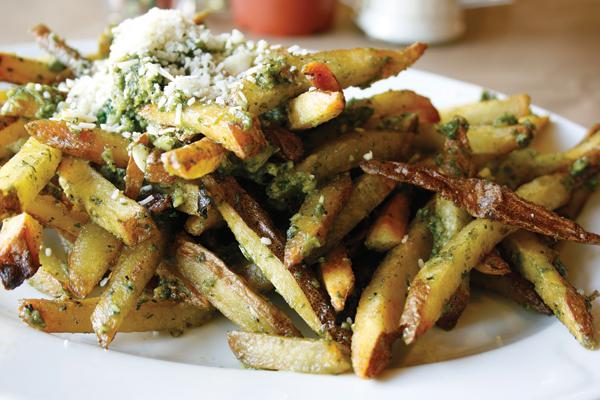 Would you like some fries with that garlic?
There is no such thing as too much garlic at the Garlic Shack, which celebrated its grand opening on July 2; taking the place of what used to be Plum Blossom Chinese restaurant.
Many customers might walk in expecting to order Italian food, but they will soon find the food served is not of any particular origin, nor is it what is usually seen in an everyday restaurant.
Going into this restaurant can be risky, especially for the less audacious crowds; the spunky food titles are initially confusing, but it seems unlikely for one to leave this restaurant unsatisfied despite the inevitable, garlicky breath they obtain at the end of their meal.
"It's white trash meets bistro," said manager Ken Powers as he described the menu, which he mostly made up himself.
Powers developed his passion for cooking when he was 17 years old, and he has been cooking and innovating with food ever since. He explained that one of his main goals in opening The Garlic Shack was to offer food with twice as much garlic as normal and call it happiness. It seems it has been successful so far, especially due to the amount of customers and sounds of garlic-infused munching present.
As people walk into this quaint little midtown restaurant on J Street, they are welcomed with earth-toned red and green walls, hanging garlic and paintings of goofy garlic characters. Each table is covered in brown paper sheets – rather than some fancy tablecloth – a salt-and-pepper set and white ceramic dishes filled with crayons for drawing. Local art is also featured on the walls of this restaurant, for sale to whoever is interested in buying.
As Sacramento native Johnny Gueyger stepped into The Garlic Shack for his first time, he rambled excessively about his love for garlic and expressed great excitement for the restaurant's existence.
"I was shocked and heartbroken when I saw that Plum Blossom went out of business," Gueyger said. "(But) when I saw it was turned into The Garlic Shack, a negative was quickly turned into positive."
In a restaurant that revolves around garlic, it would be wrong not to serve garlic fries and the Garlic Shack does have a variety of them. There are Jamaican garlic fries, which are sweet potatoes smothered in garlic love, and even garlic pesto fries, which are fries deliciously topped with creamy pesto sauce and served with a sweet and – quite irresistible – house-made ketchup.
"Garlic pesto fries? Are you kidding me? Someone pinch me," Gueyger said.
It's almost guaranteed that no vampires lurk near this place. Just about everything on the menu seems to contain garlic in some fashion, including the Dark Chocolate Stout Cheesecake with its garlic-cookie-crumb crust.
"We're working on getting garlic ice cream," said waitress Amber Ortiz.
Those who are looking to try something different with a delicious taste, should definitely give the Garlic Shack a shot. Other options include chicken and Philly sandwiches; Moe's Elephant Platter options, which consist of a main course, soup, salad, warm bread or tortilla and a scoop of ice cream; and even vegetarian dishes such as the "Five Star Mushrooms," which is five different mushrooms sauteed with garlic, butter and beer. All Elephant Platters are served with garlic mashed potatoes and steamed broccoli.
An order of fries go for about $6 while the sandwiches run for about $10. Not too shabby, especially since the servings are quite generous; a serving of fries looks to be as big as two large orders of McDonald's fries combined. The restaurant is open daily from 11 a.m. to 11 p.m. except on Fridays and Saturdays, when it stays open until 3 a.m.
Along with all the garlic is also a variety of beer, which is also used in many of the dishes. Speaking of beer, all college students get $1 off any beer purchase at the Garlic Shack, which is pretty awesome. Just be sure to bring an ID, and don't forget to grab some breath mints as well.
The Garlic Shack is located at 1830 J St. in Sacramento. It is open daily from 11 a.m. to 11 p.m. except Friday and Saturday, when it is open until 3 a.m.
Janice Daniels can be reached at [email protected]