Gonzalez looks toward future in Fall Address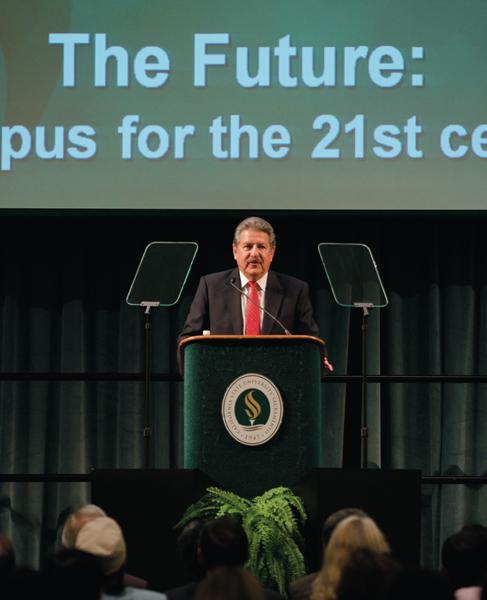 Sacramento State's President Alexander Gonzalez remained generally positive during his Fall 2011 Address today, urging students and faculty to focus on Sac State's future, rather than its current budget woes.
Gonzalez delivered his address to a fully-packed Union Ballroom at 10 a.m. The speech consisted of information about the cuts from the state budget, how that budget has forced Sac State to examine efficiencies and what Sac State can remain optimistic about despite the cuts. 
Always central to his speech was the state budget that was passed in June, which cut $650 million from the CSU system, and has meant a tuition hike to more than $5,400 yearly for full-time undergraduate students.
Gonzalez introduced the new staff at his speech, which includes Edward Inch, the new dean of College of Arts and Letters; Jane Bruner, associate dean of the College of Natural Sciences and Mathematics; Karen Davis-O'Hara, associate dean in the College of Education and Ali Izadian, Associate Vice President for Facilities Services, and bid farewell to the retiring faculty members. 
He then highlighted some of the campus' key changes going into the fall semester, with the most notable being Facilities Services upgrading 12 classrooms over the summer with smart technology, and the security initiatives that are meant to reduce the amount of bike thefts on campus.
Gonzalez then continued on by addressing, in his words, "the disturbing funding trends for public higher education in this state."
"One of the problems that we face as a state institution is the fact that our funding is dependent on the revenue that comes from the state," Gonzalez said in an interview following the speech, "Because of that, we are always lagging behind. They have to get the revenue before the allocations come to us."
Gonzalez mentioned ways that the campus can work on a smaller budget by running more efficiently. To help with this, the College of Education has been tasked with reorganizing the college in a way that keeps students on track for a four-year graduation.
The Graduation Initiative Steering Committee, with the help of Information Resources and Technology, has implemented a program that will track all tutoring, advising and retention contacts on campus.
"We want to be able to assure students and the public that Sacramento State is a place where students will succeed," Gonzalez said during his speech.
During the only portion of the speech that received spontaneous applause, u
sing a television commercial about robots running a day-care as a reference, Gonzalez spoke of the future of higher education. He said that while faculty "are being pressured to be more like robots," those expectations were not going to come to fruition.
Discussion of the budget problems was followed up with Gonzalez inserting some positivity – telling numerous success stories of Sac State students. Students like Montana Hodges, an alumna who has published a book on geology and now intends to produce a video on the relationship between fossil collectors and scientists.
"In the current budget climate, we literally cannot afford to hide our successes," Gonzalez said during his speech.
Gonzalez even at times poked fun at the lack of state funding, which the receptive audience found entertaining. Gonzalez paused and sneered between saying, "I would like to introduce our… five new faculty," and received an audible laugh from the crowd.
"Delivering a speech about budget cuts to students and faculty – I'm preaching to the choir," Gonzalez said in an interview following the speech. "People are just tired of all the budget cuts."
Gonzalez closed out his address by encouraging faculty to look past the state budget, and concentrate on creating a campus that will represent higher education in a respectable manner and foster interaction within the community. 
Edward Inch, the new dean of the College of Arts and Letters, is looking forward to working in an environment in which leadership can remain positive in times of such distress. 
"Budget challenges are currently being experienced everywhere," Inch said. "You can either approach it negatively by thinking that it's a hopeless situation, or you can find efficiencies and communicate with the community in a way that moves us towards a more positive future." 
Jason Conwell, a member of the California Faculty Association, said he is wary that some of the words used by Gonzalez could hint at potential changes on the horizon.
"He said some things that I thought were good, like directing more state revenue towards the CSU system," Conwell said. "However, I'm worried a little bit when he speaks of efficiency, because sometimes that means smaller classes and worse education."
Conwell also considered the address to be abbreviated, much shorter in duration than he had expected. The speech itself lasted a little less than 30 minutes.