Giants in perspective: fans should be grateful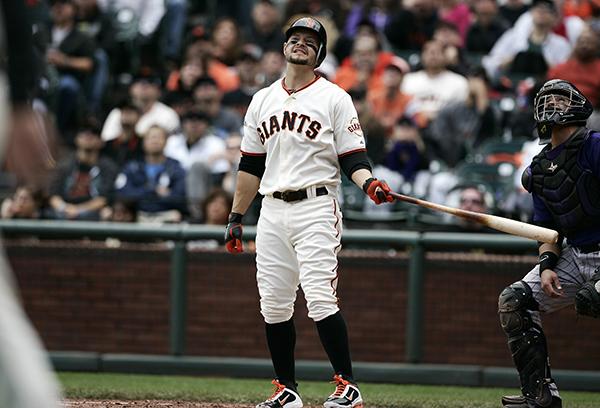 As I begin writing this column, the San Francisco Giants are failing to execute a hit-and-run in an effort to even the score against the Houston Astros, whom they are trailing 2-1. This is the first of a four-game series in which the Giants host the worst team in baseball.
I half-expect the Giants to get swept.
It's become quite fashionable for Giants fans to be pessimistic. Many "real" Giants fans wear their pessimism like a badge of honor. A never-quite-good-enough, victim-of-East-Coast-bias badge of honor, but a badge of honor nonetheless.
I am as guilty of this as anyone. I have been continuously disappointed by not only the play, but also the lineups, executive decisions and the grounds crew.
But when I take a step back, I realize being disappointed in the Giants is completely unfair.
Remember, at the beginning of 2010 season, the wild card was a pipe dream. They were a team with great pitching and awful hitting.
They are still that same team.
Sure, they've won a World Series between then and now. And a lot of names have been stitched in and out of uniforms. But the crux of the matter is the talent throughout the lineup has remained miserably constant.
There were three players who were supposed to change that this year. Buster Posey was going to grace us with his golden presence for an entire season, Brandon Belt was going to be this year's Buster Posey, and Pablo Sandoval was going to be the "Kung Fu Panda" from 2009.
Unfortunately, only Sandoval was able to avoid the wrath of the karma gods, hitting .303/.348/.503 with 15 home runs in 340 at-bats as of Monday. Posey was lost to an incident that I've suppressed deep in my memory and Belt fell victim to the latest Bruce Bochy rookiecide.
The players who started in Posey's and Belt's absences were mediocre, even during hot streaks.
Even more than injuries and Bochy, the Giants' demise can be blamed on science. There are a few "theories" that are said to apply to the 2010 and 2011 Giants: what goes up must come down, nothing gold can stay, and more recently, Murphy's Law.
But above all, it's as simple as the law of averages.
The 2010 season could not have been more fortunate for San Francisco. Last year, it seemed like the Giants scored every run precisely when they needed it, winning every do-or-die game by a fraction of a run.
The perfect encapsulation of how the law of averages (or xLOA for fans of advanced statistics) has affected the Giants is first baseman and part-time thong model, Aubrey Huff.
After Huff's 2010 season, the law of averages sent Huff's 2011 stats plummeting. Last year, Huff hit line drives at a near career-high rate, while hitting a near career-low ground ball rate.
When 2011 rolled around, the judge of King Average's court ruled that those rates reverse trajectory, resulting in Huff's .245/.303/.379 line this season.
Basically, everything that went right for the Giants last year (which really was everything) is going wrong now.
To be fair, and a little optimistic (it hurts!), we still don't know how good (or bad) this Giants team can be. They haven't had a healthy starting lineup since the addition of Beltran. With Belt, Sandoval and Beltran all in the lineup everyday, the Giants won't score runs like the Red Sox, but they might not put up numbers like a struggling Double-A offense, either. If Belt is in the lineup everyday, however, that probably means someone kidnapped Bochy and the season might be canceled due to the ensuing FBI investigation.
Now, back to that first game of this Astros' series. The Giants are down 3-1 in the bottom of the ninth. After Carlos Beltran led off with a single, Sandoval stepped into the batter's box as the Giants' best hitter and the potential tying run. He promptly fell behind 0-2 then hit into a double play. So goes the last quarter of this season.
The Giants may still win the division and make the playoffs. They still play in the National League West and they still have great pitching. But even if they don't win another game this season, the fact is a team that was an afterthought just 16 months ago is a serious playoff contender and more importantly, the defending world champion.
Sports fans are never satisfied, myself included. But it's important to learn when to put a season in perspective and be grateful. For Giants fans, that time is now.
Dante Geoffrey can be reached at asports@statehornet.com.
You can also follow him on Twitter: @dantegeoffrey.