Double Coverage: LeBron, no one likes you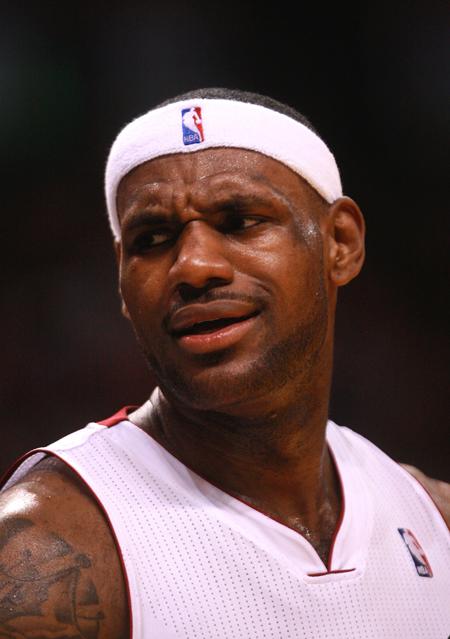 Cassie Kolias
LeBron James says that God sees everything.
Maybe he didn't get the memo that God sees him being a cocky, stuck-up, narcissistic, attention-seeking jerk who has no class?
Cleveland isn't the only one who hates LeBron. Right now, he's chilling on the list of most hated people, right next to his best buddy Kanye West.
After the Cleveland Cavaliers played a horrendous 112-57 game against the Lakers, leaving the game with their heads hung low, LeBron had a blatant message on his Twitter.
"Crazy. Karma is a b—-. Gets you every time. It's not good to wish bad on anybody. God sees everything!"
Yes, the Cavaliers have the worst record in the NBA, and at the time of his Tweet, James' former team had dropped 11 games in a row. But doesn't he have any respect for the team that used to believe him to be its hero? It's pretty easy to see why they are bitter.
If the "King" would step down from his pedestal for a second he would be able to see that Cleveland was already at its lowest, and rubbing it in doesn't help out with his karma. He not only made a public spectacle of the Cavs when he snubbed his team of seven years on a television special, but he is continuing to be a cocky villain.
The only thing the Cavs have really done wrong is openly express the fact he was wrong for leaving Cleveland. They were outraged that he moved on in his hunt for a championship without them.
LeBron is a bully. Plain and simple.
It doesn't need to be stated he is an amazing basketball player. But you don't have to step on people just because you're on top.
And where exactly is his championship ring? Oh, that's right, he doesn't have one.
Instead of being a self-righteous tool, maybe LeBron should try and be a role model, and use his status for good rather than for revenge.
LeBron is trying to use all the hate to his advantage. He wants and craves it.
Since he isn't really technically crowned the "King" of the NBA, he is settling for a new title: "Villain of the NBA."
It seems that karma is biting LeBron in the rear as well. Right after his post on Twitter, he had a minor ankle injury, and the Heat went on a losing streak. Not so funny, is it, LeBron?
A blog for a Miami newspaper in September 2010 did a poll about the most hated athletes, and LeBron made it as the sixth. I wouldn't be surprised if he has broken the top two by now. He is most certainly the most hated in the NBA; he knocked Kobe off that throne awhile ago.
The funniest part of the whole post was that he tried to backtrack and take back his statement saying it had nothing to do with the Cavs. But if you are going to be a jerk and say something, it's pointless to also be a coward and try and take it back.
Maybe he didn't learn the old saying: "If you don't have something nice to say, then don't say it at all."
Yo LeBron, I'm really happy for you and I'mma let you be No. 1, but Kobe is the best basketball player of all time.
Cassie Kolias can be reached at [email protected]