Well trainers push students toward fitness goals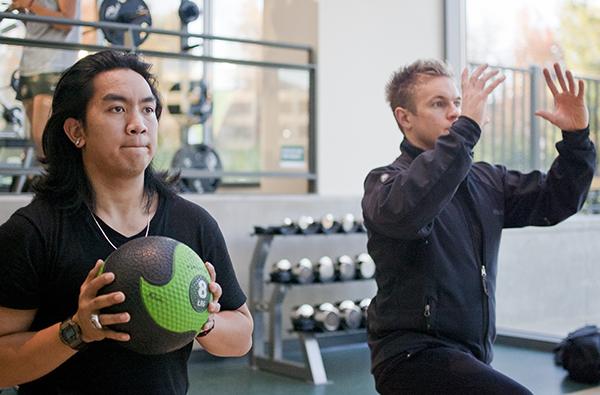 Personal trainers at the Well are not moving anywhere for a job.
Five of the seven personal trainers are current and former Sacramento State students who are leading their own personal training sessions for the school that gave them an education.
Personal trainer Randall Bowens is a Sac State student studying kinesiology with an emphasis in physical education.
"Having played football for the greater part of my life I developed a passion for fitness and training that I hope to pass on to as many people as possible," Bowens said, according to the Well's website.
Personal training sessions durations are one hour and range from $50 for one session to $600 for 20 sessions. For buddy sessions, one session is $65 and 20 sessions are $900.
The Well continues to hire staff that have all areas of fitness knowledge, so people can reach their fitness goals.
"It is a lot of fun helping people reach their fitness goals," said personal trainer Steven Melanson. "Because many times they have tried and tried without the results they are hoping for and the reaction they have once they get close or actually reach their goals is always great to see."
Although Melanson continues to work hard in the gym, the Sac State graduate was influenced to become a personal trainer earlier on in his life while being involved in sports.
"I played soccer since I was 4 years old and playing for University of California, Los Angeles made me realize what being in great shape really meant," Melanson said. "Also, it showed me that just working out was not enough, but instead you have to push yourself beyond the comfort point in order to get truly great results."
Melanson said he wants to teach people that getting in shape takes more than going to the gym and just going through the motions.
Sometimes making excuses can be a lot easier than working hard, Melanson said, and someone who is willing to work hard in the gym will likely work hard in other areas in their lives such as school and work.
"I saw all types of injuries while playing college soccer and realized that the reason I never suffered from them was due to my work ethic outside of games and practice," Melanson said. "Training my entire body instead of just the "beach muscles' and making sure to train functionally allowed me to take hits without any serious injuries. I thought that doing similar types of exercises with people of any age would help them in sports, work or even getting through the day."
The personal training staff likes to have fun while getting in shape and offers various options for training.
"The Well has been a blast to work at," Melanson said. "I have worked at some of the biggest gyms in Southern California and some of the nicest gyms in Northern California, but the Well is near the top of the list when it comes to enjoying where I work."
Another co-worker of Melanson's is Courtney McKinnley, a personal trainer who emphasizes on weightlifting.
"While playing college basketball I found a love for weightlifting and strength and conditioning. I then got into powerlifting and have competed in the American Powerlifting Association, raw power lifting competitions," McKinnley said, according to the Well's website.
To jumpstart a personal training session or to find out more information to utilize the Well's facilities visit their website www.thewell.csus.edu.
Alyssa Huskinson can be reached at ahuskinson@statehornet.com