Coxswain takes charge her senior year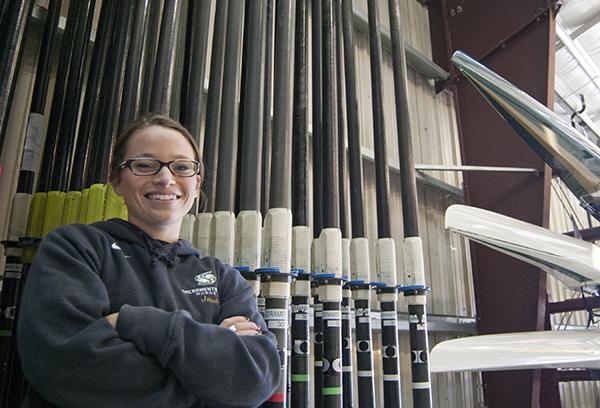 Jessa Carlson swears that all she wants to do is go fast.
Carlson, a senior coxswain on the Sacramento State rowing team, does not yell "row, row, row" like some people would think, but asks her teammates multiple times a day if they are ready to go fast. Carlson becomes almost a second version of her 4-foot 10-inch self at the front of the boat each day, checking her troubles at the dock.
"Rowing has been the one consistent thing in my life that has continued to challenge my character, my mental toughness, my strength physically," Carlson said. "It's challenged my perspective, and taught me lessons that I have been able to apply to regular life. It's a pretty powerful thing for me."
Her job as coxswain puts the fate of the team on her shoulders. On the water, the boat is hers because she sits at the head of the boat, facing the opposite way that the rowers face. She is the commander, the coach and the boss on the water because that is where the coach can't be.
"She definitely has a take-charge mentality," said head coach Mike Connors. "And she's pretty intuitive which is one of those things that you either got it or you don't."
Oh, and to add to the list of hats she must wear every day on the boat, her teammates generally call her Captain.
"It's a really big honor to be a co-captain as a coxswain," Carlson said. "Usually coxswains have leadership roles because of our position in the boat and what we do at practice, so to have my teammates saying "she's more than that' and elect me as a captain is a huge honor. It's a big deal."
Carlson, a communication studies major, fell in love with rowing when she was a junior in high school. She is not just in love with the sport, but she is utterly and unequivocally obsessed. When a friend told her about the sport in high school she decided to give it a shot.
"My friend said "You're short. You're bossy. You have to get into this. You'd be perfect,'" Carlson said. "It's pretty incredible to find a sport that values someone that isn't even five feet tall. It's pretty awesome, that's pretty hard to find."
During high school, Carlson was originally recruited for rowing by the University of Tulsa in Oklahoma. She got an academic scholarship to Syracuse University in New York, and had an invitation to visit the campus because of her grades. When she went for a visit, she spoke with the rowing coach about being a walk-on to the team.
"And then I walked on," Carlson said. "I quickly discovered that I couldn't tolerate the winter. Right now they are off the water, and they are off until March. It's snowing so the river and the lake are frozen."
She moved back home to Sacramento and in 2008 got involved in a development camp at the Aquatic Center, and that was where the assistant coach and novice coach at Sac State convinced Carlson that Sac State would be a good fit for her.
"I came to Sac State because of rowing," Carlson said. "I turned down an acceptance to USC to come here because I wanted to pursue rowing in a more intimate team environment because the bigger schools have bigger teams so there is a lot of inter-squad competition and sometimes you get lost in the shuffle."
Not only does Carlson balance school and rowing, but she maintains a 4.0 grade point average and is the vice president of scholarship in her sorority Sigma Kappa.
"Jessa is a very goal-driven, and smart girl," said Caitlin Brennan, junior port rower. "She knows how to prioritize and stay on task. It's to no surprise that girl is able to whip out a 4.0. Anyone who knows her wouldn't expect anything less."
Rowing is something that Carlson plans to keep in her life forever. After she gets her degree she plans to continue onto graduate school, where she hopes to be able to coach rowing part-time, possibly even for Sac State.
But for now her focus is training the newer members of the team for when she leaves.
"Every time before we launch our boat, whether it be practice, a big race, or even the night before a race, she asks us a simple question: "Do you want to go fast?' The object in rowing is to be faster than the other crews," Brennan said. "In order to accomplish this, each and every person in your boat has to have the want, and even the need to go fast. Her asking us if we want to go fast is really just a reminder of why we row, and should not have to be answered."
Cassie Kolias can be reached at [email protected]